Music
Our School Vision
To create a school that enables all pupils (no matter what background or starting point) to achieve their full potential and promotes the school as a beacon within the community, where aspirations are achieved and dreams are a reality for all pupils, staff and families
Our Music Vision
To provide a music education that is engaging for all concerned and that everyone is born a musician. Music plays a role in every aspect of our lives, wherever and whoever we are. Our music education offers young people the chance to understand, perform and be creative through voice and instrumental.
What does it mean to be a musician?
A musician is a person who composes, conducts, or performs music. It is someone who can express, share experiences and emotions through song and/or instruments.
Our Music Curriculum
At St. Helen's Primary School, in our Early Years, we offer daily opportunities to explore instruments in the provision and through performing songs and rhymes. We use a variety of songs and rhymes linked to all areas of the curriculum and in our daily routines, including themes the children show an interest in and for maths and phase 1 phonics sessions.
We follow the National Curriculum using the Model Music Curriculum from Charanga for KS1 and KS2. The Charanga units use the three musical processes: composition and improvisation, listening and responding and performing (including singing).
Classes of knowledge in the music curriculum:
Tacit – Tacit knowledge is gained through experiences through music, and pupils might not be aware they even know it.
Procedural – Procedural knowledge refers to the know-how of music.
Declarative – Declarative knowledge refers to facts of music and includes knowledge of keys, chords and songs.
The Three Pillars of Music: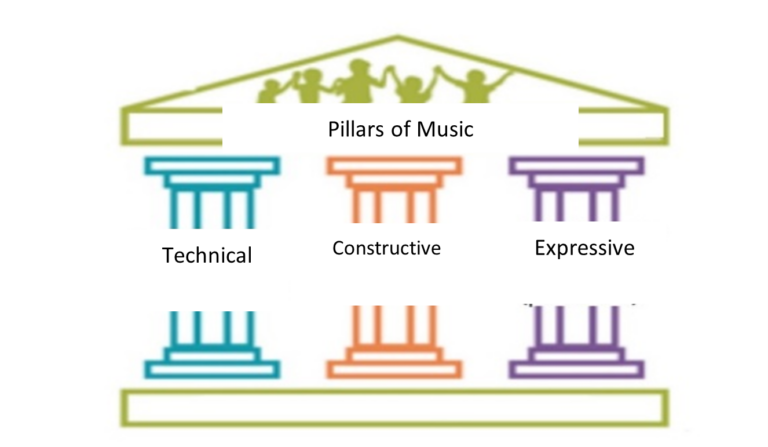 The Technical pillar involves children playing a musical instrument or singing a musical piece.
The Constructive pillar looks at how a variety of musical components come together within a creative process. This allows children to experiment and create different sounds to see which sounds work well together.
The Expressive pillar allows children to demonstrate their feelings through musical instruments and pieces. This includes playing and performing songs that the children have composed themselves.
Intent
As a school, we offer a structure and sequence of lessons to ensure all children have covered the skills required to meet the aims of the national curriculum. The intention is that children gain an understanding of what music is through listening, singing, playing, evaluating and composing across a wide variety of historical periods, styles, traditions, and musical genres. They will be taught to sing and compose music, as well as understand and explore how music is created, written and communicated.
Implementation
At St Helen's we implement a progressive Music Curriculum throughout. The model music curriculum ensures pupils sing, listen, play, perform and appraise. This is embedded in the classroom activities and through performances by a performing arts club. The elements of music are taught in the classroom lessons so that children are able to use some of the language of music to dissect it, and understand how it is made, played and appreciated. In the classroom, pupils learn how to play glockenspiels and develop the understanding of creating notes, as well as how to read basic music notation. They also learn how to compose, focusing on different dimensions of music, which in turn feeds their understanding when listening, playing, or responding to music.
Impact
The integral nature of music and the learner creates an enormously rich palette from which a student may access fundamental abilities such as: achievement, self-confidence, interaction with and awareness of others, and self-reflection. Music will also develop an understanding of culture and history, both in relation to pupils individually, as well as ethnicities from across the world. Children are able to enjoy music, in different ways - either as a listener, composer or performer. They can dissect music and comprehend its parts. They can sing and feel a pulse and they can understand other the inter-related dimensions of music elements.
SEND Statement
Our music curriculum promotes and develops cultures and practices that include all learners. We aim to provide a sense of community and belonging and believe that educational inclusion is about equal opportunities for all learners, whatever their age, gender, ethnicity, impairment, attainment and background. When the curriculum needs adapting, to suit the needs of individual children, appropriate modifications are made, these may include:
breaking down tasks

reducing the burden on working memory

the use of appropriate supportive routines

combining learning modes to enhance clarity/accessibility

adapting materials to ensure a good but achievable level of challenge
It is also the case that some pupils with SEND may have enhanced musical perception.
Music Curriculum Day
A local band, called 'Pek and Wanley' demonstrated a range of live music to the children. During the day, the children across school from EYFS - Year 6 joined in singing songs, playing instruments and learning about music from another country/continent.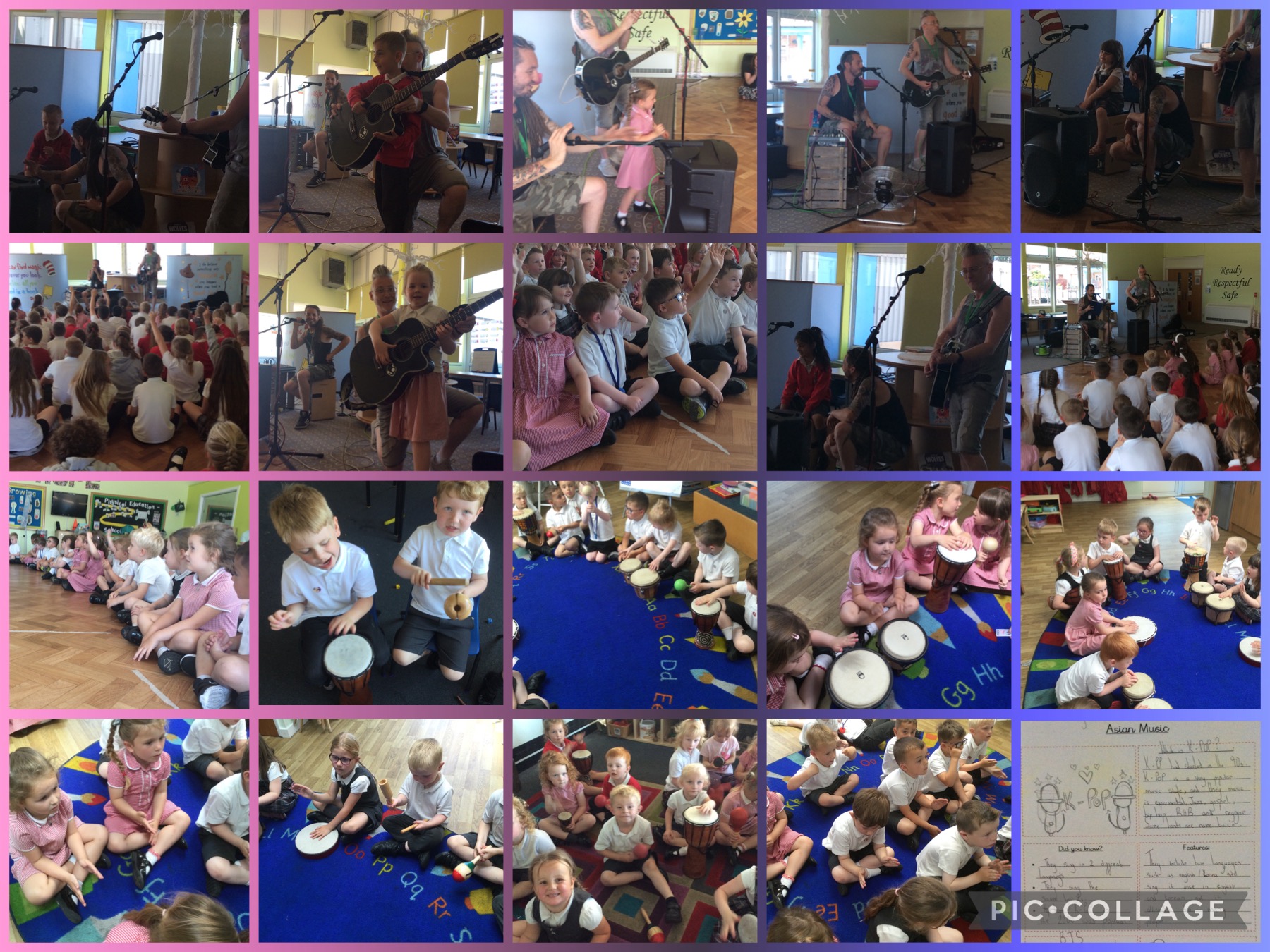 Our school Sea Shanty
St Helen's Primary School Sea Shanty
School Choir
The school choir took part in a choir concert held at the Lebutkin Theatre at East Durham College's Peterlee Campus. The choir joined the other school choirs in the trust on the day of the concert. The song called 'One Voice' was adopted as the collaborative choirs' name as it was felt it encompassed everything that the trust was working to achieve. Families and friends listened to the final performance on the evening.
Reading Spine for Music
Toot Toot - Guess the instrument' by Cocoretto
'Animal Music' by Julia Donaldson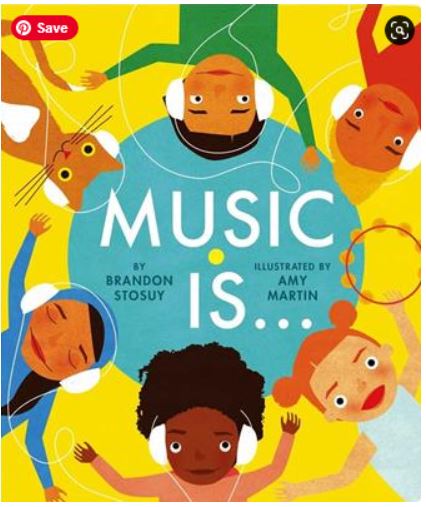 'Music is...' by Brandon Stosuy
'We are music' by Brandon Stosuy
'Zin! Zin! Zin! A violin' by Lloyd Moss
'M is for Melody' by Kathy-Jo Wargin
'The story of music Little people and pop artists' series by Little Tiger
'Drum Dream Girl' by Margarita Engle
'One Love' by Cedella Marley (Based on the song sung by Lois Armstrong)
'Music is in everything' by Ziggy Marley
'The story orchestra-four seasons in one day'
Little People Big Dreams Books
Culture Capital
Music lessons ensure all children can take part to learn to play a range of musical instruments and are given the experience of music from other cultures and genres through the curriculum. We encourage all children from KS1 – KS2 to take part in musical instrument lessons within school, which includes the glockenspiel. All children in EYFS have the opportunity to explore musical instruments in the setting and music is embedded within the curriculum.
Useful links
Key Documents
Music Long Term Framework
music model curriculum 2 long term framework 2023 2024.pdf
Progression of knowledge and skills
mmc progression of knowledge and skills years 1 6 1 .pdf