Art
Our School Vision:
To create a school that enables all pupils (no matter what background or starting point) to achieve their full potential and promotes the school as a beacon within the community, where aspirations are achieved and dreams are a reality for all pupils, staff and families
Our Art Vision:
Through our diverse curriculum, we make the arts accessible incorporating local links to our community to develop skilled artists with a true love of art and a deep subject knowledge.
What does it mean to be an artist?
An artist is a person who creates artwork expressing different emotions, times or events in the form of an image, dance, film or 3D piece.
"We believe art in education is an entitlement for all pupils and plays an important part of each child's development."
Intent
As a school, we offer a structure and sequence of lessons to ensure all children have covered the knowledge required to meet the aims of the national curriculum. The intent is to ensure all students produce original, imaginative work. Children have the opportunity to be curious, explore their ideas, record their experiences through sketchbook work and final pieces, As well as exploring the work of others, they will research different cultures, diverse artists and evaluate different creative ideas. Children will also develop their knowledge of famous artists, designers and craft makers.
Students will become confident and proficient in a variety of elements, including:
sketching
painting
digital artwork
sculpture
collage
printing

textiles

ceramics
Pupils will also develop their interest and curiosity about art and design through carefully sequenced lessons offering skills progression, knowledge progression and the opportunity to ask questions and demonstrate their skills in a variety of ways. The lessons will also offer the chance for children to develop their emotional expression through art to enhance their personal, social and emotional development.
Our curriculum is designed and sequenced around the three main pillars of art and design,
- Practical knowledge - which is about developing technical proficiency.
- Theoretical knowledge - which is the cultural and contextual content that pupils learn about artists and artwork.
- Disciplinary knowledge - which is what pupils learn about how art is studied, discussed and judged.
The Three Pillars of Art and Design in our school
| | | |
| --- | --- | --- |
| Practical knowledge | Theoretical knowledge | Disciplinary knowledge |
| | | |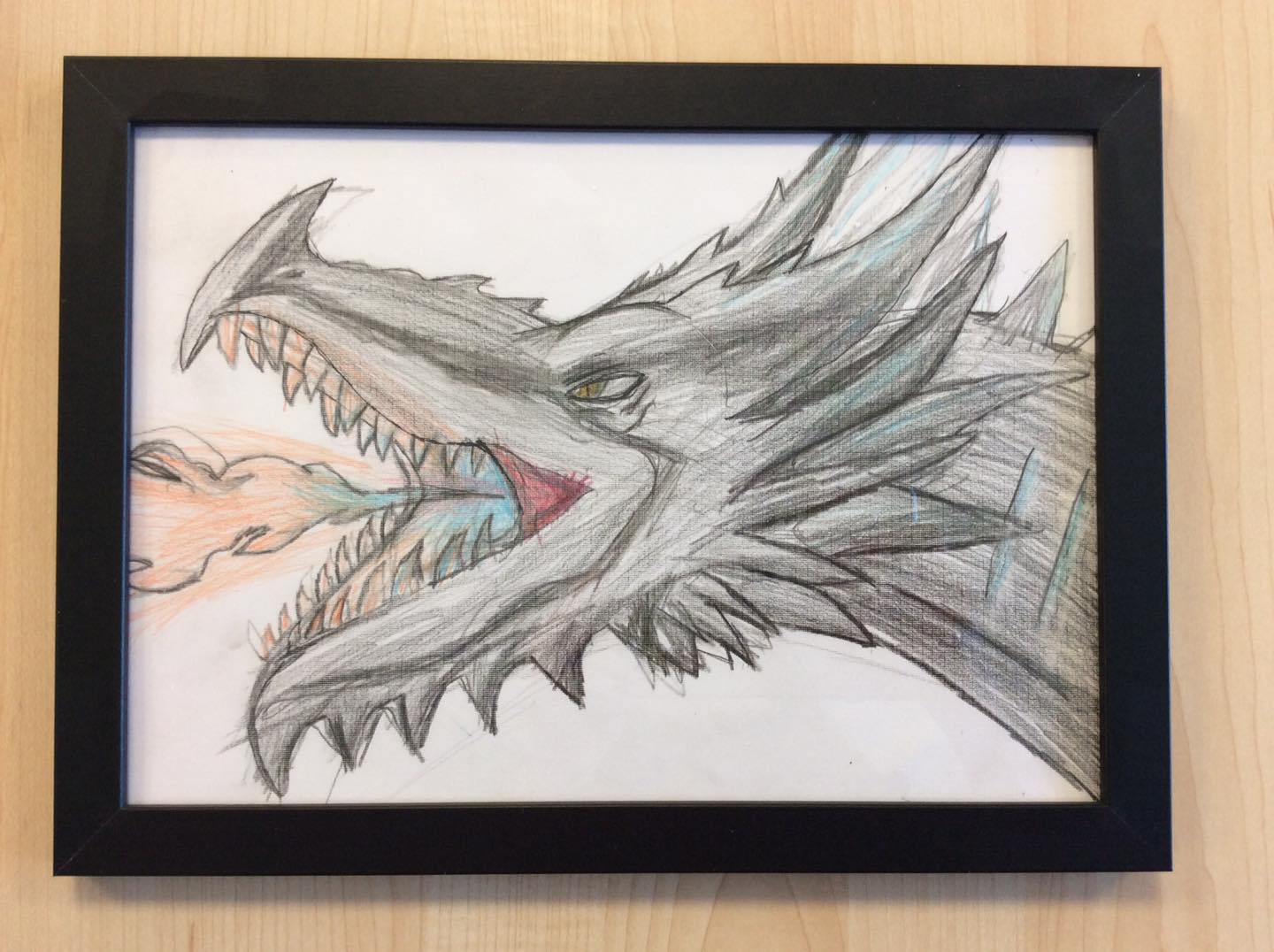 Implementation
At St Helen's we implement a progressive Design Curriculum throughout. We provide opportunities for children to ask observant questions, think critically, experiment, explore and develop a true understanding of technical knowledge. Within our school, Art is taught through a curriculum, which has non-negotiable skills for each year group, providing continuity and progression linked to the national curriculum.
Each key stage focuses on different diverse and multi-cultural themes to ensure continued interest in the subject as well as acquiring new knowledge. Children will learn how art and design both reflect and shape our history, and contribute to the culture, creativity and wealth of our nation. During lessons, children will develop their skills, including their use of different medias, with creativity, their use of control, experimentation and an increasing awareness of different kinds of art, craft and design movements. Our broad range of artists show the three paradigms of art (traditional, modern and contemporary) and include diverse artists from around the world who have faced varying life events.
Impact
Teachers have high expectations and quality evidence is produced in a variety of forms. As St Helen's pupils will become confident in critiquing their work and giving their positive opinion on their own and other works of art. Children will use technical vocabulary to improve their inquiries and curiosity about the art and design world around them and apply these skills to meaningful briefs linked to our local heritage, where possible. All pupils are expected to know, apply and understand the medias, skills and processes specified for each topic through the design process we follow in school. All children are able to speak confidently about their art and design work and enjoy producing innovative and stylised pieces as part of our tailored art curriculum.
SEND Statement
Our Art curriculum promotes and develops cultures, policies and practices that include all learners. We aim to engender a sense of community and belonging and believe that educational inclusion is about equal opportunities for all learners, whatever their age, gender, ethnicity, impairment, attainment and background.
KS3 Progression
Our Art and Design curriculum builds consistent progression towards the national Key Stage Three Curriculum expectations.
Key stage 3 National Curriculum
Pupils should be taught to develop their creativity and ideas, and increase proficiency in their execution. They should develop a critical understanding of artists, architects and designers, expressing reasoned judgements that can inform their own work.
Pupils should be taught:
to use a range of techniques to record their observations in sketchbooks, journals and
other media as a basis for exploring their ideas
to use a range of techniques and media, including painting
to increase their proficiency in the handling of different materials
to analyse and evaluate their own work, and that of others, in order to strengthen the
visual impact or applications of their work
about the history of art, craft, design and architecture, including periods, styles and
major movements from ancient times up to the present day
Art Long Term Framework
Art Knowledge Organisers
Art Day 2023/2024!
This year across school, we celebrated Art Day and linked it with Black History Month. Children looked at a wide range of Black artists from around the world and the discrimination these artists have faced whilst trying to share their skills and create beautiful art. The children had a fantastic day researching their artist and producing art work in their style. This year, we really focussed on vibrant, bright colour and pattern alongside text in our pieces. Another fantastic annual Art Day!
Our Resident Artist Keith Robson
Our Year six children are enjoying spending time with our new resident artist Keith Robson.
"Keith Robson is a British comic book artist from Hartlepool, best known for his longtime contributions to Beano and Dandy titles."
Our pupils have been getting to grips with learning to draw faces and expessions using a range of different skills and knowledge.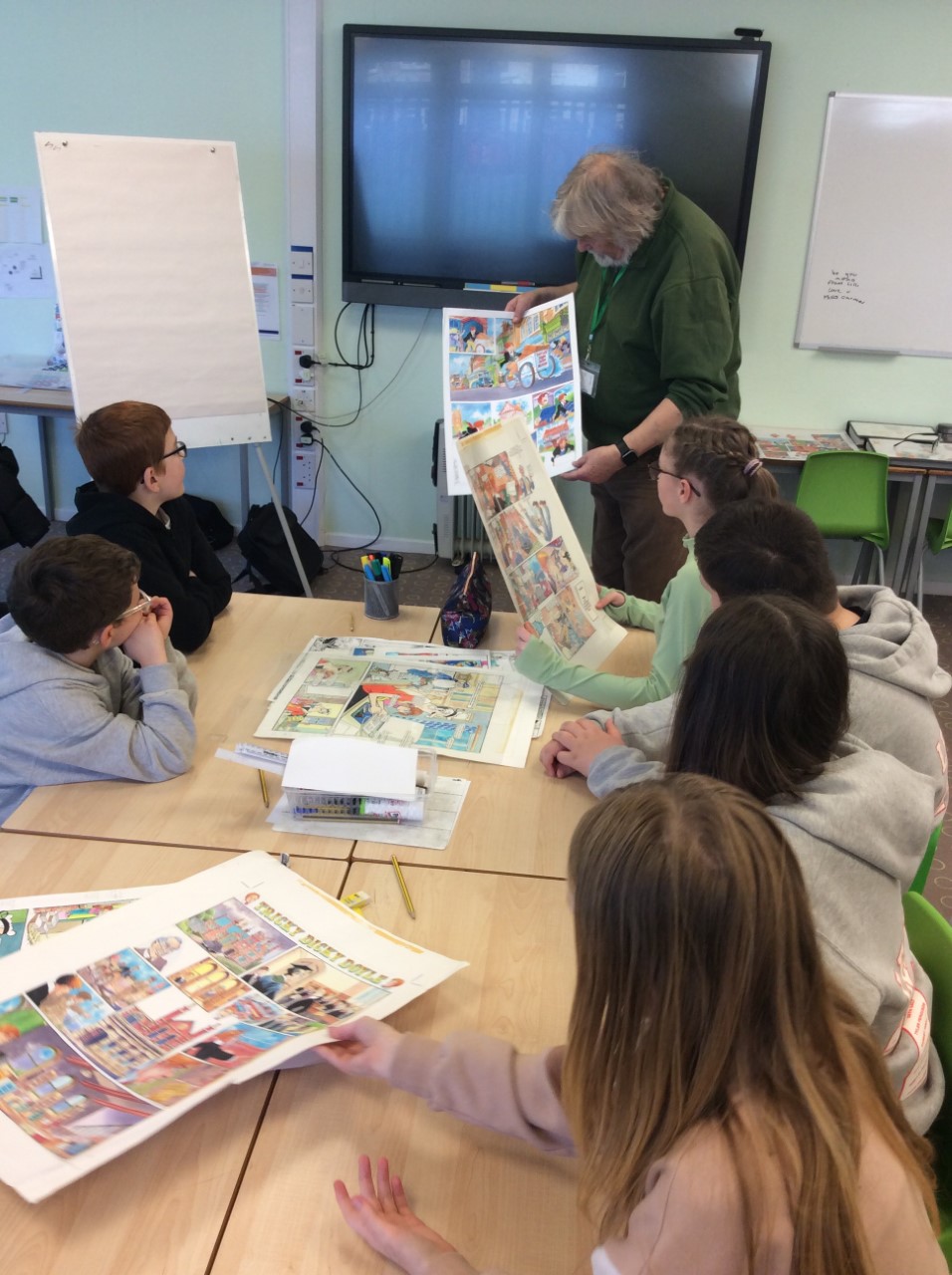 Art Month 2023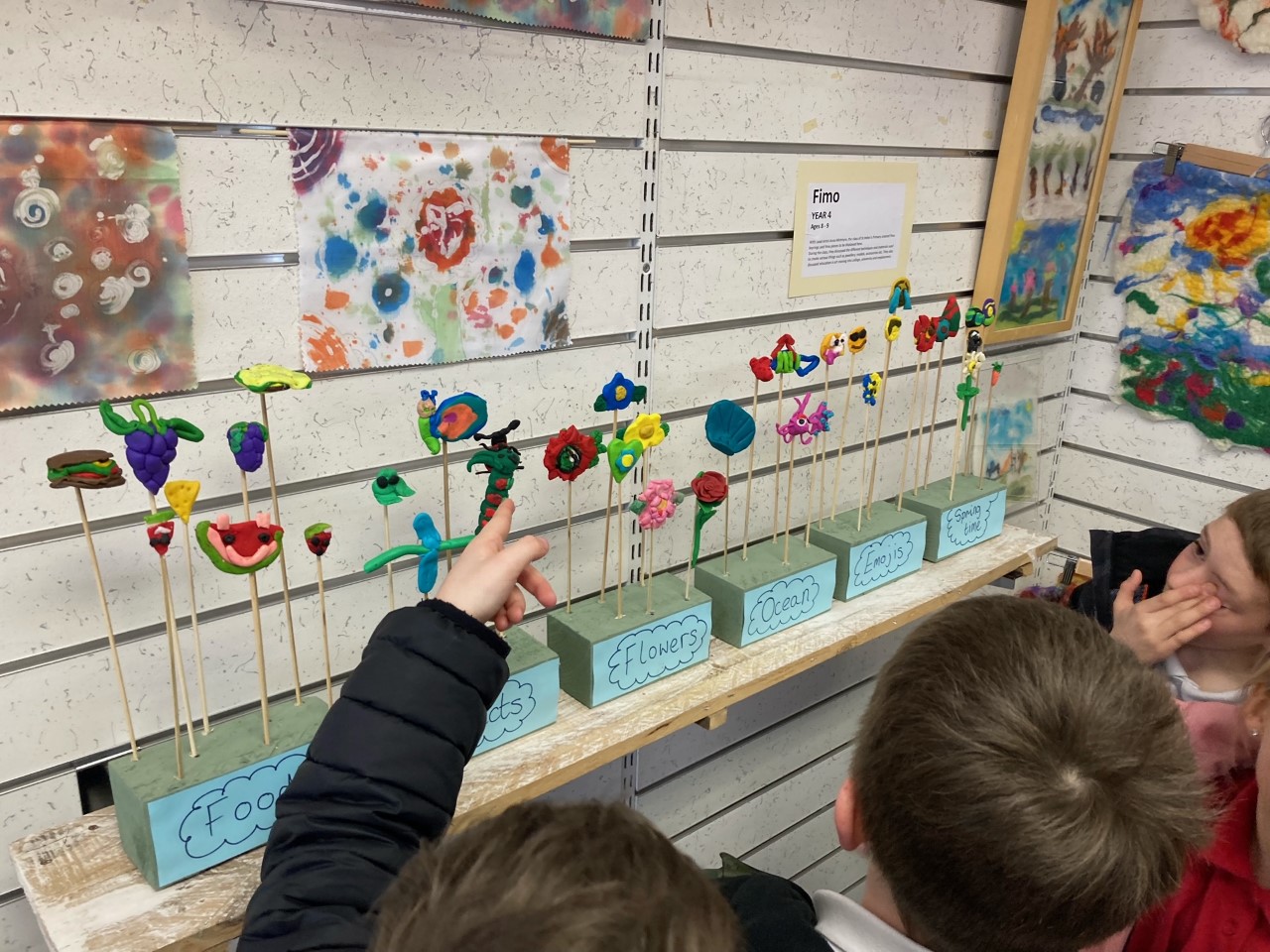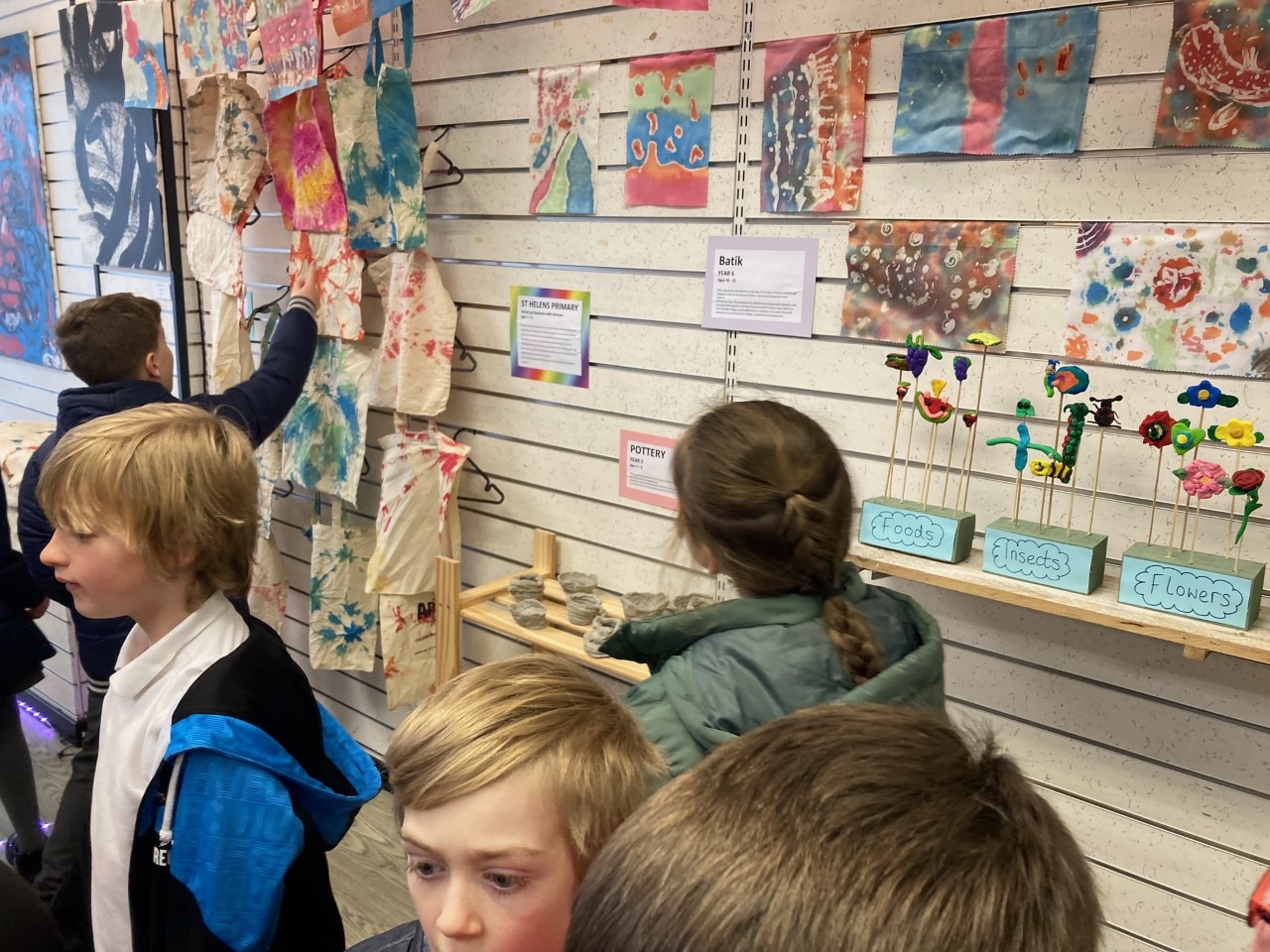 his year, we have completed an even bigger and better Art Day by making it Art Month. Throughout the month of March, KS2 pupils have completed workshops with local practicing artists, learning a range of skills and knowledge that are additional to our Art Curriculum.
Year 3 – Clay
Year 4 – Fimo
Year 5 – Felt Making
Year 6 – Batik
Year 6 – Tie Dye
Our pupils' artwork, from Art Month 2023, has also been displayed in the Hartlepool Artrium Gallery for the general public to see. The exhibition will be open from 25th March till the 22nd April 2023!
Art Month 2023
Year 5 Art Bytes online gallery is now open!
Art Bytes St Helen's Primary School Online Gallery
Year five earlier this year created some beautiful pieces of artwork for the national ArtBytes competition. Our online gallery page has now been completed and can be viewed with the below link.
The public vote doesn't open until April 1st 2023, but here's a sneak peek!
Art Bytes
EYFS Spring 1 Artwork
Here is a collection of some of our fantastic art activites completed in Spring 1 in EYFS. We loved created different lines and shapes in our new sandpit!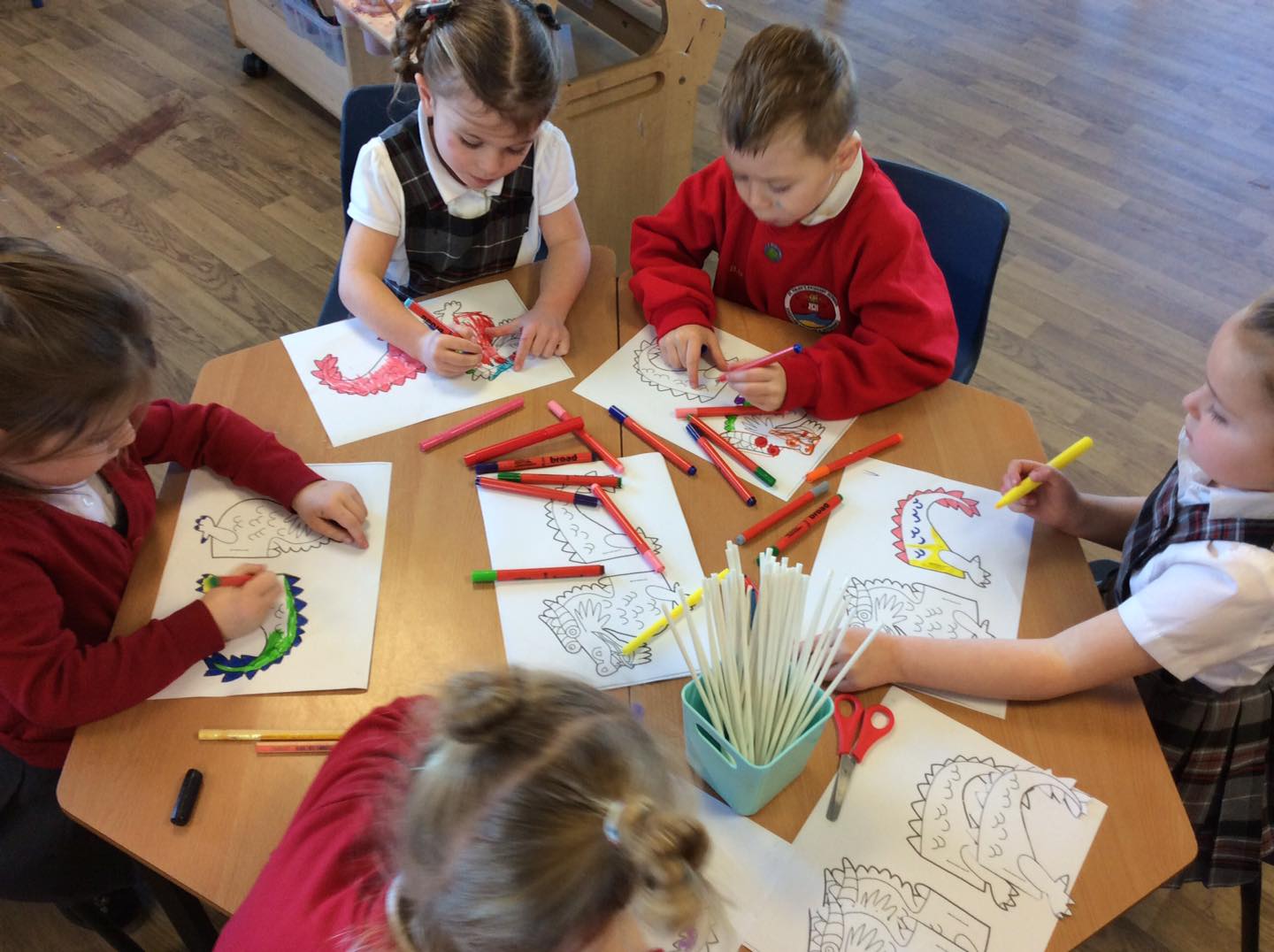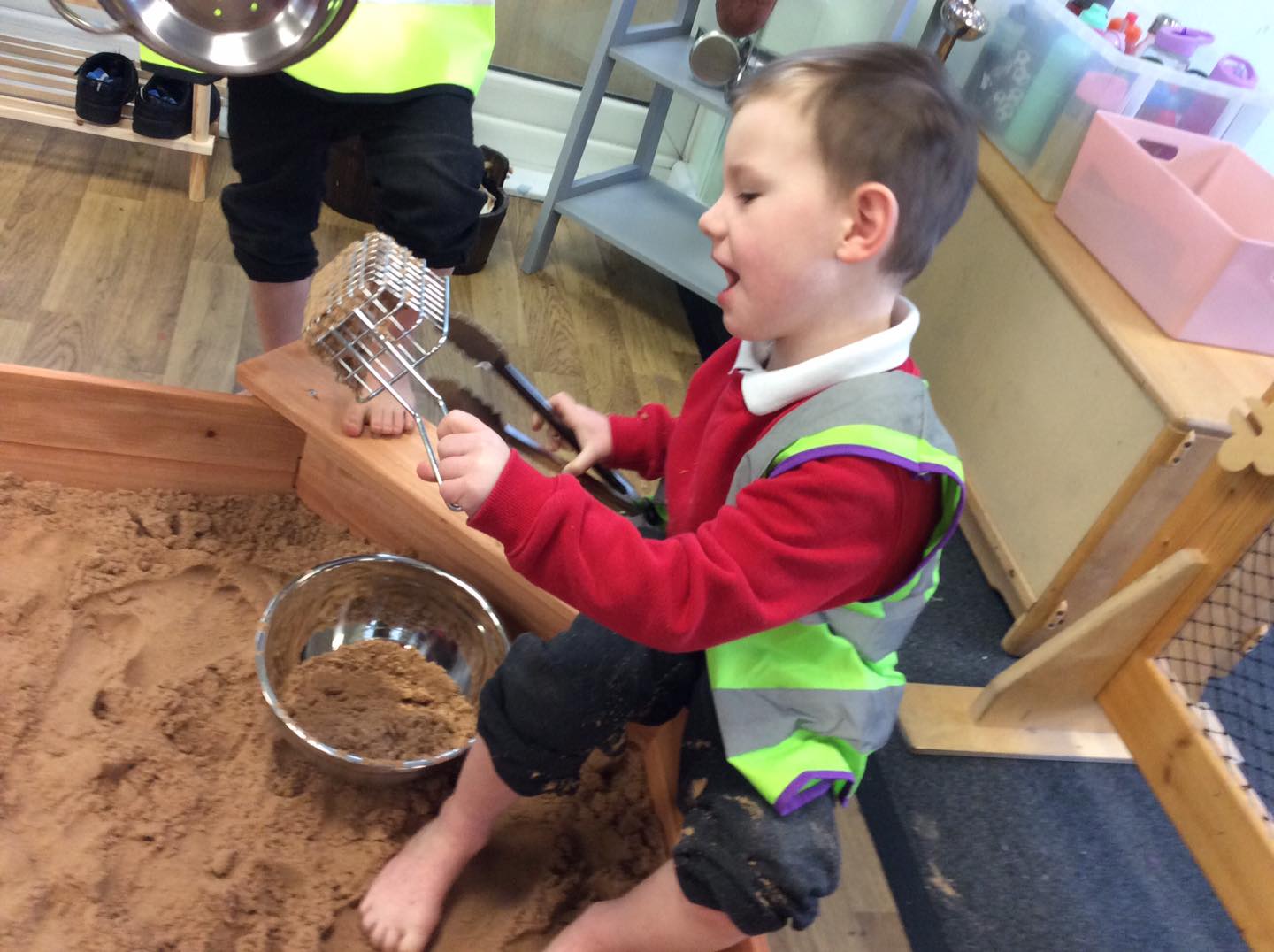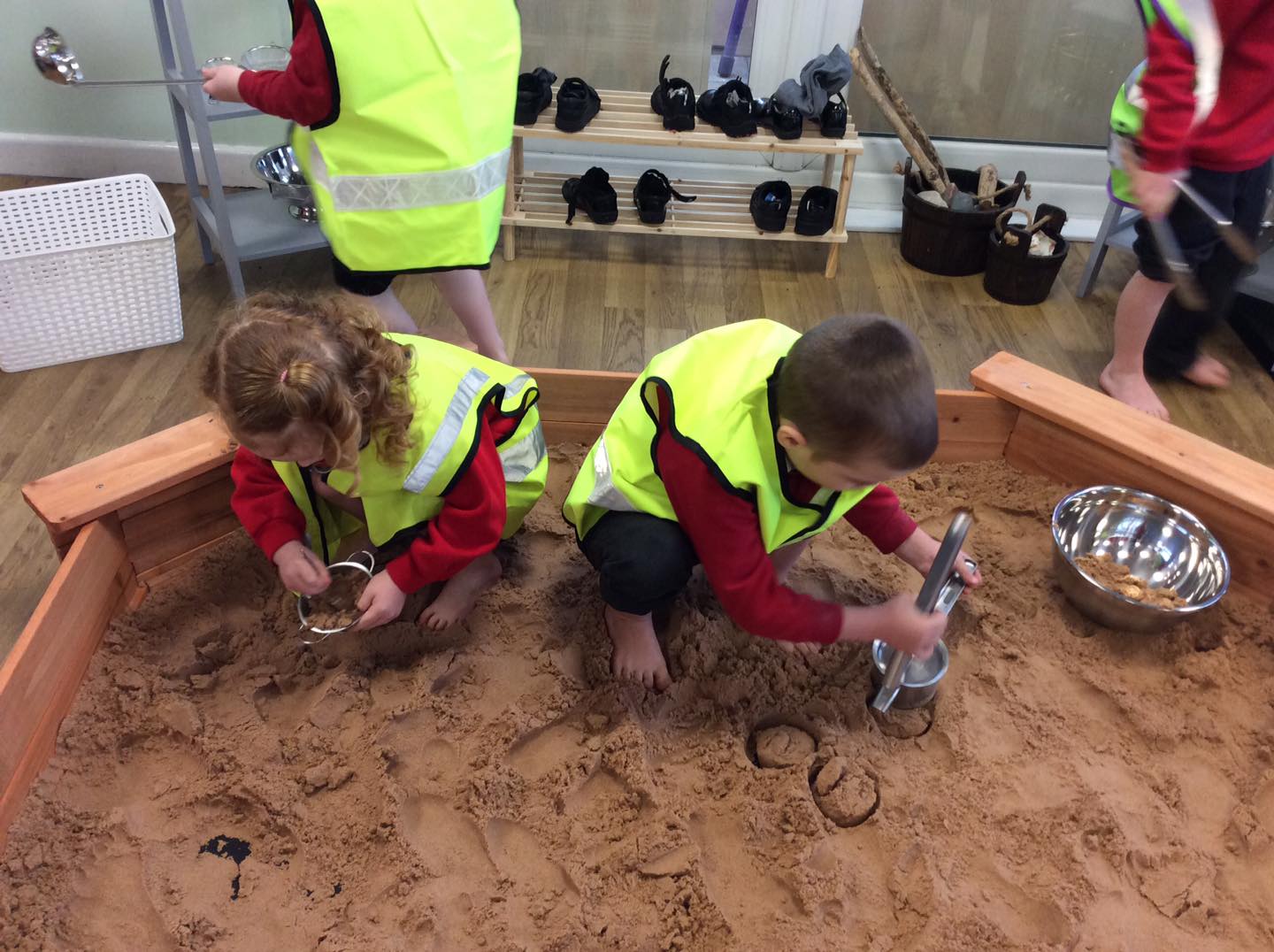 Year 4 Roman Pottery
Year 4 have created some beautiful Roman style pottery designs with carved detail reminicent of ancient Roman ruins and pottery finds.
Roman Pottery Final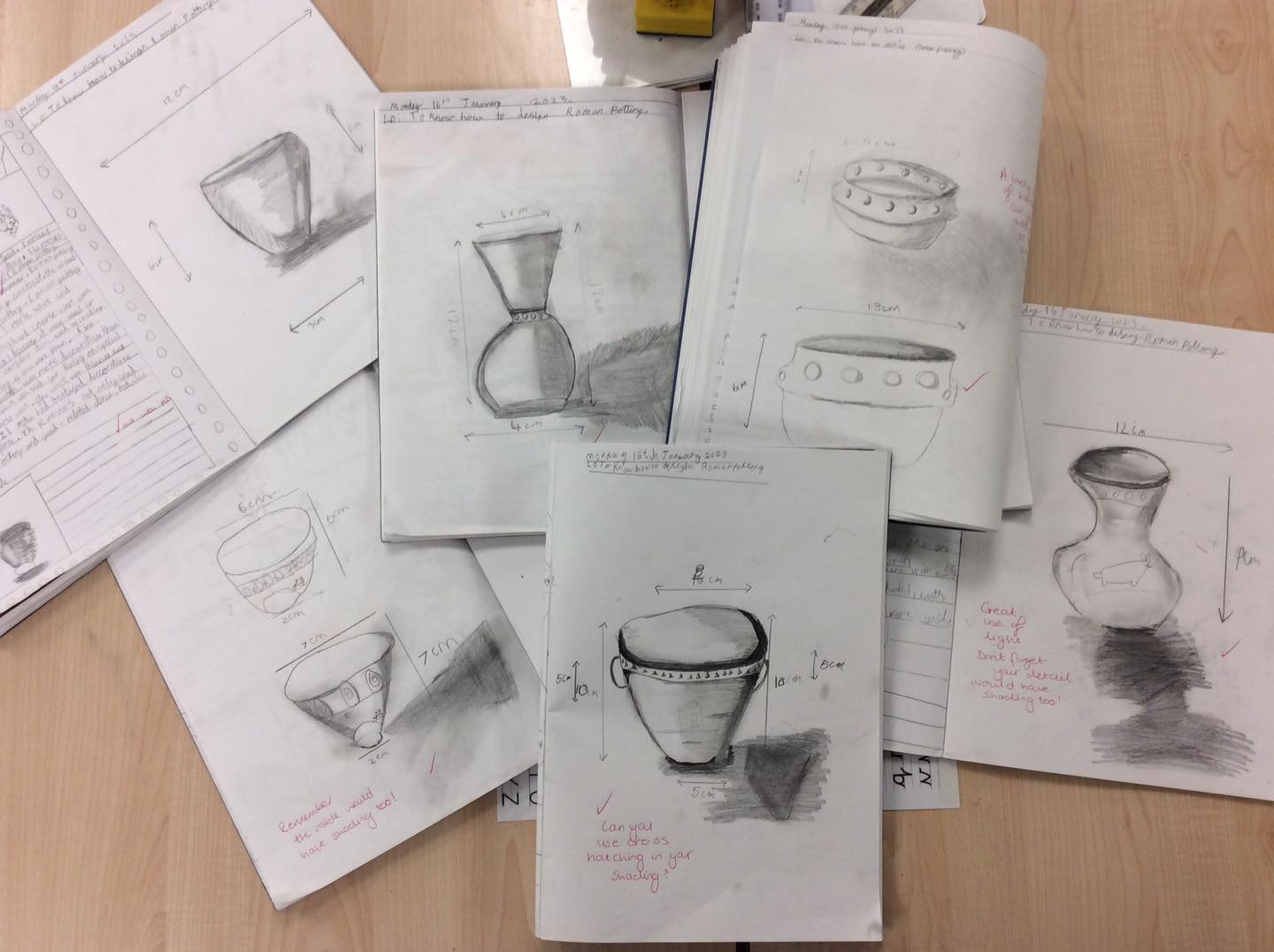 Artbytes 2023
Year 5 have completed their Artbytes competition entries and the final 26 pieces have been chosen to represent our school. The class chose a galaxy theme but have certainly come up with some very different ideas displaying their immense talent and skill. We look forward to the online gallery when it is available.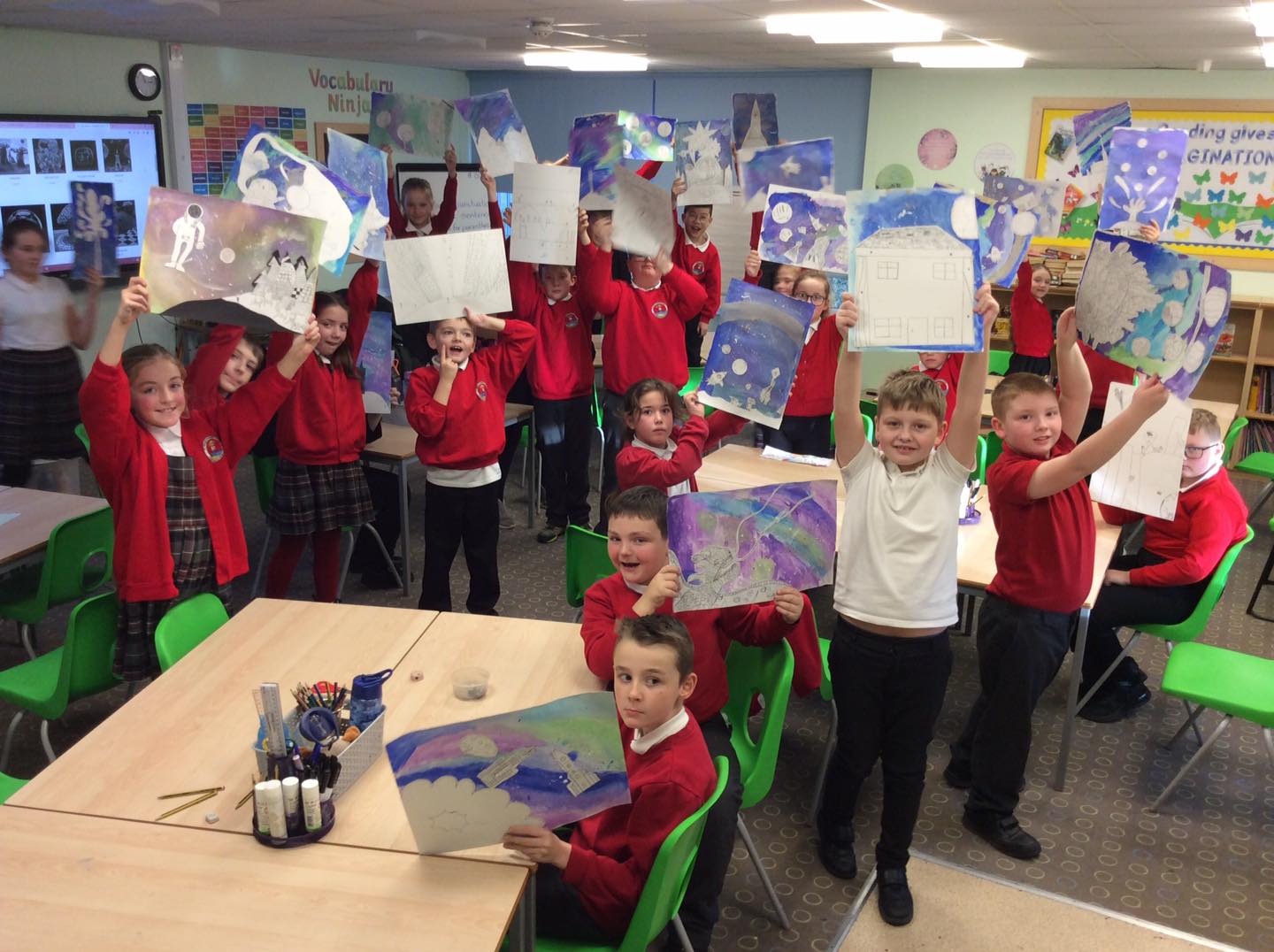 Art Bytes
Wintertide Festival Competition Winners 2021 - 2022 exhibition
2022 is the year to celebrate Bloominart comeback and acceptance onto a 3-year development programme through the Tees Valley Combined Authority,
They are thrilled that they are able to finally exhibit the children's flag designs, which were created last year (2021).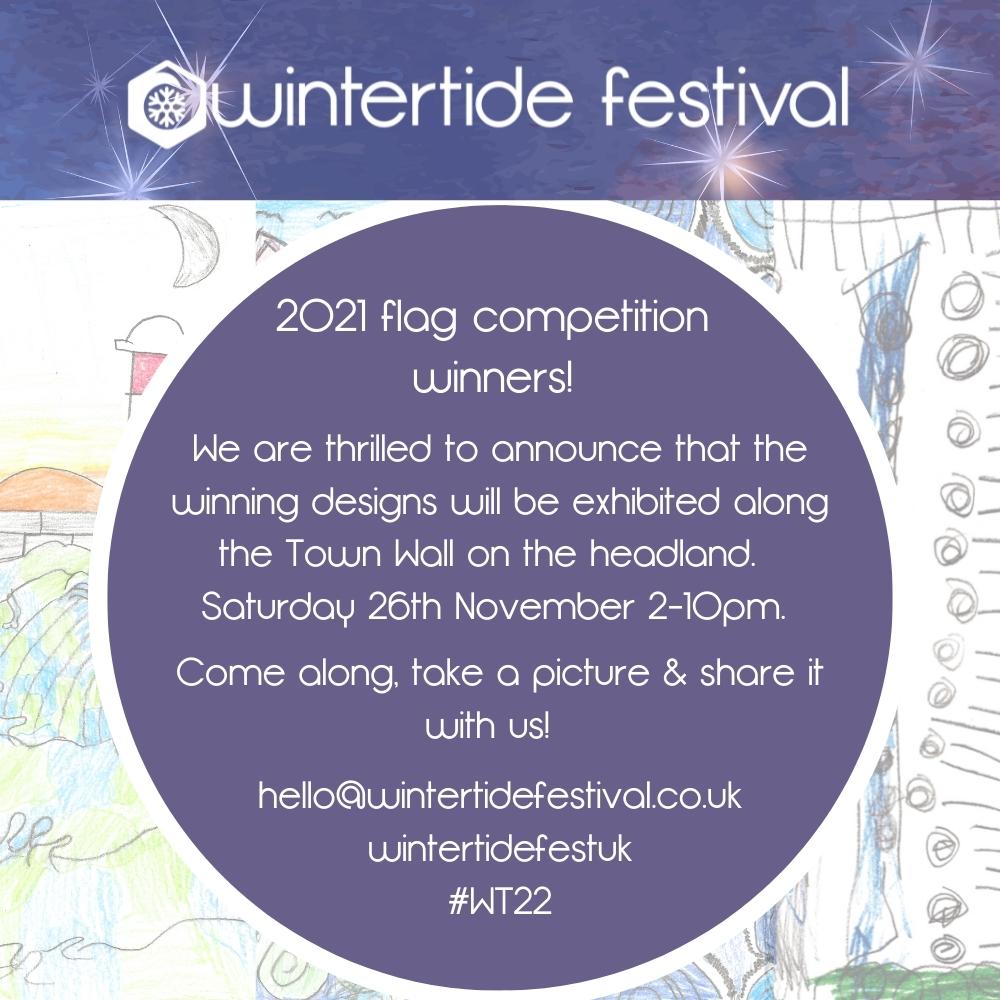 Art Bytes Competition
November 2022 - Our school has joined the Art Bytes national competition.
This year, year five will be taking part in the Art Bytes competition. Art Bytes is a national art and EdTech programme for primary, secondary and SEN schools, combining an inter-school art competition with a bespoke virtual gallery. It is based on 10 years experience in the North West and is proven to nurture talent, raise ambition and develop confidence, as well as support mental health and help develop vital skills for future employment.
Keep checking on our webiste for updates and future links to our onlien gallery when it is open.
EYFS Arts and Crafts Parent Session
Early Years held a Christmas workshop inviting parents/carers to come in to the setting to create some wonderful Christmas crafts with the children. Thank you to everyone who was involved!
EYFS Xmas Workshop
Art across our school 2021 - 2022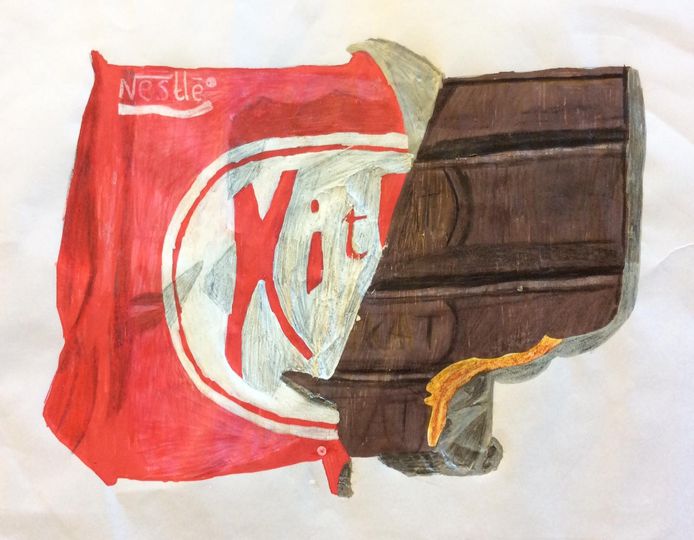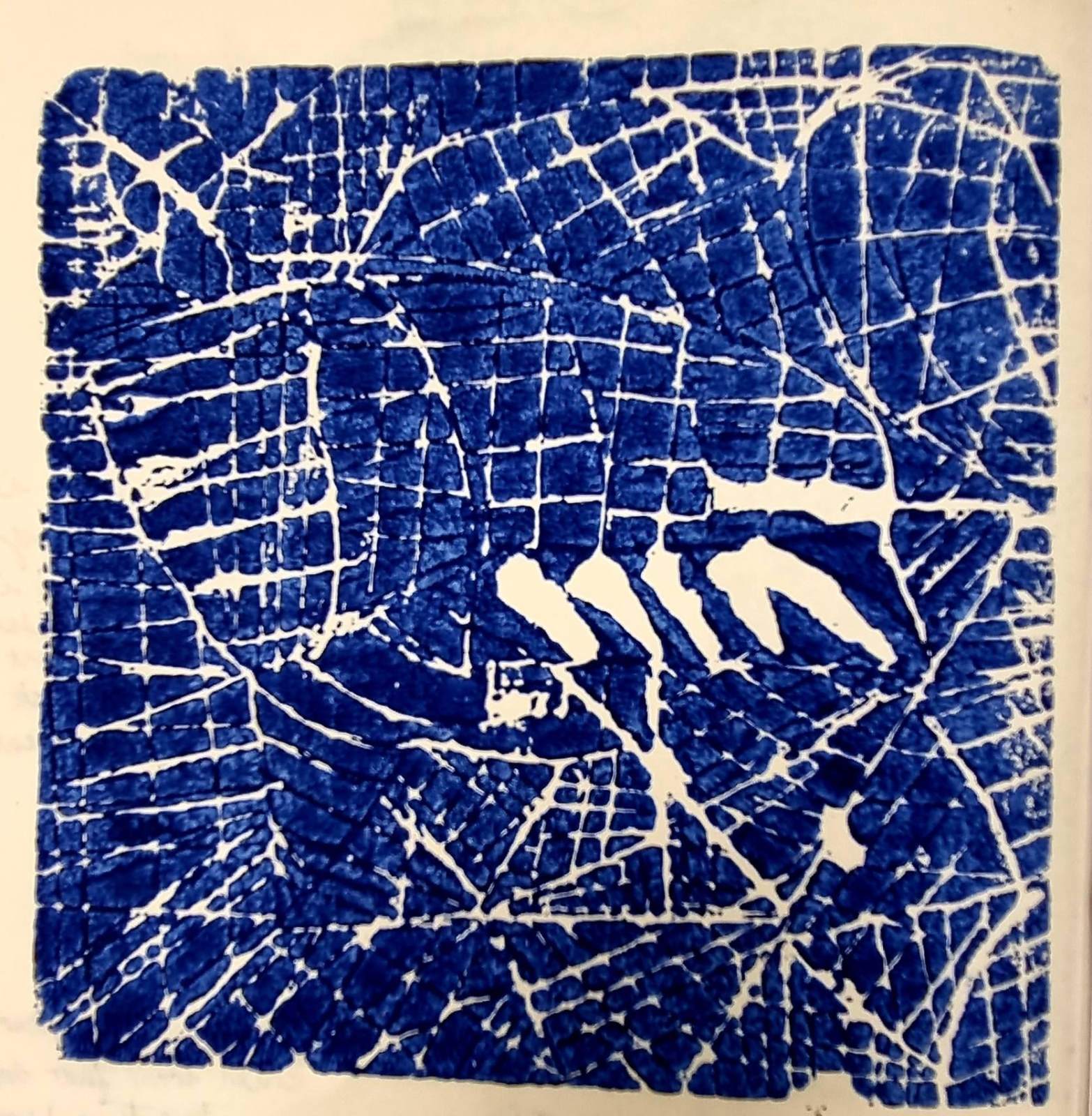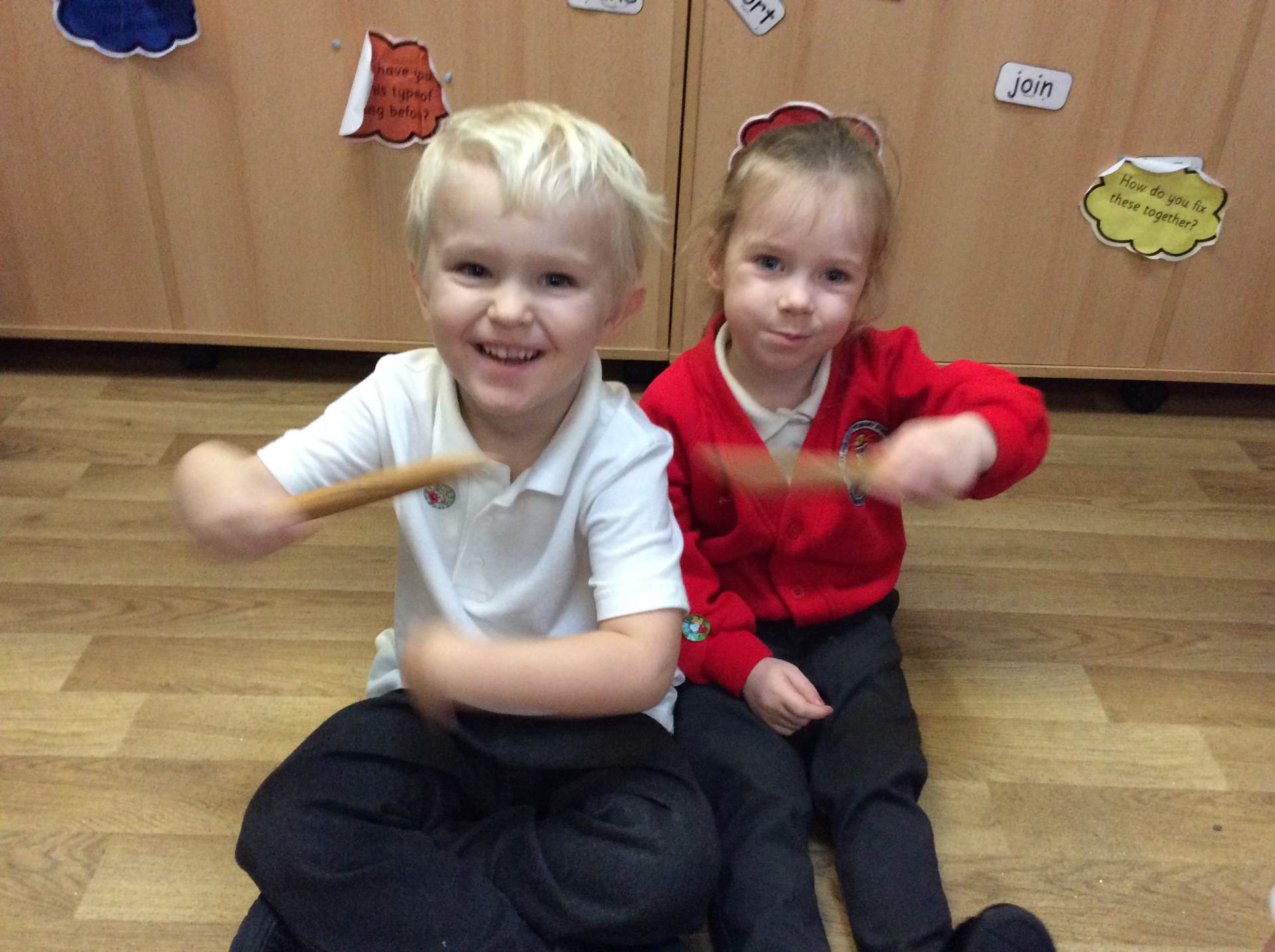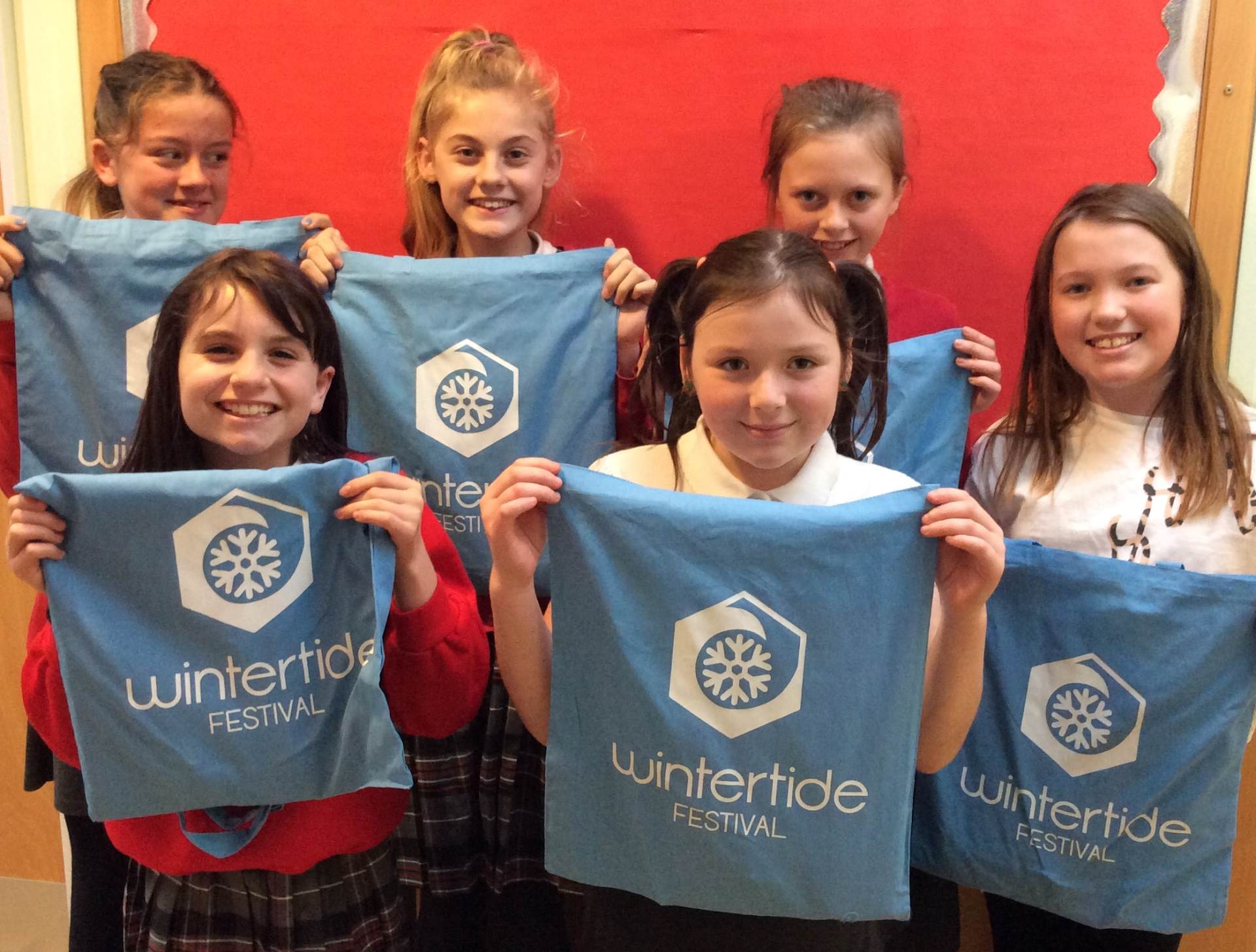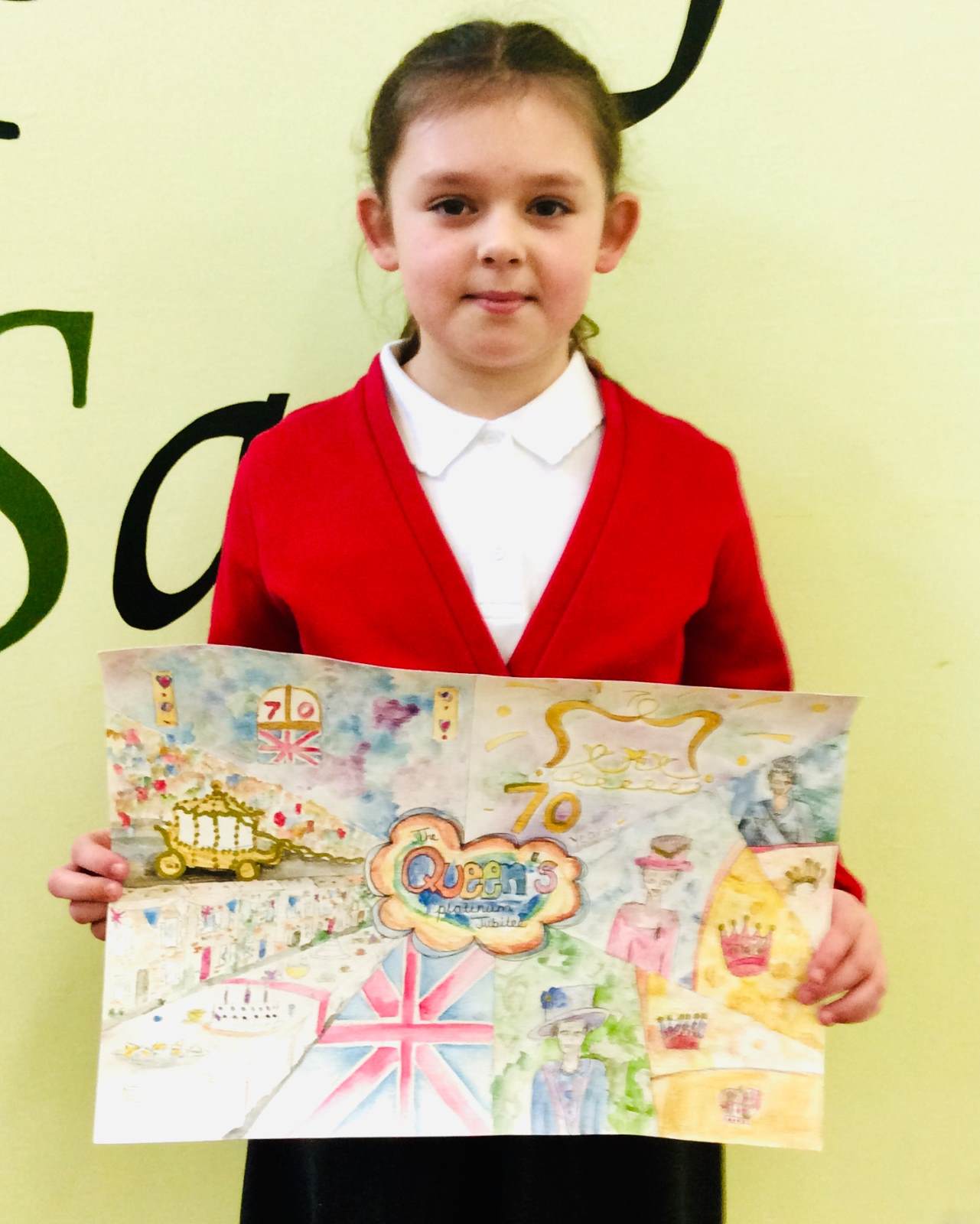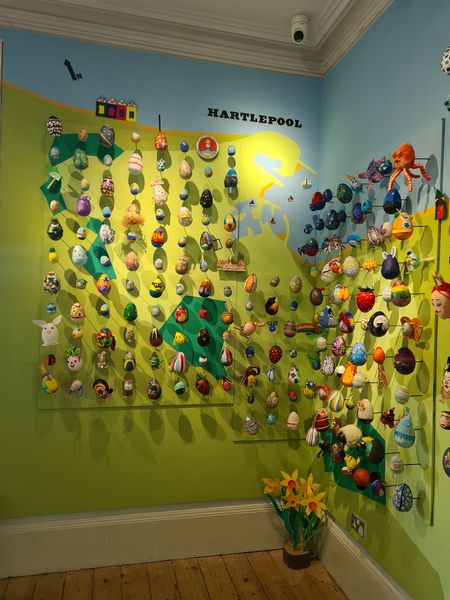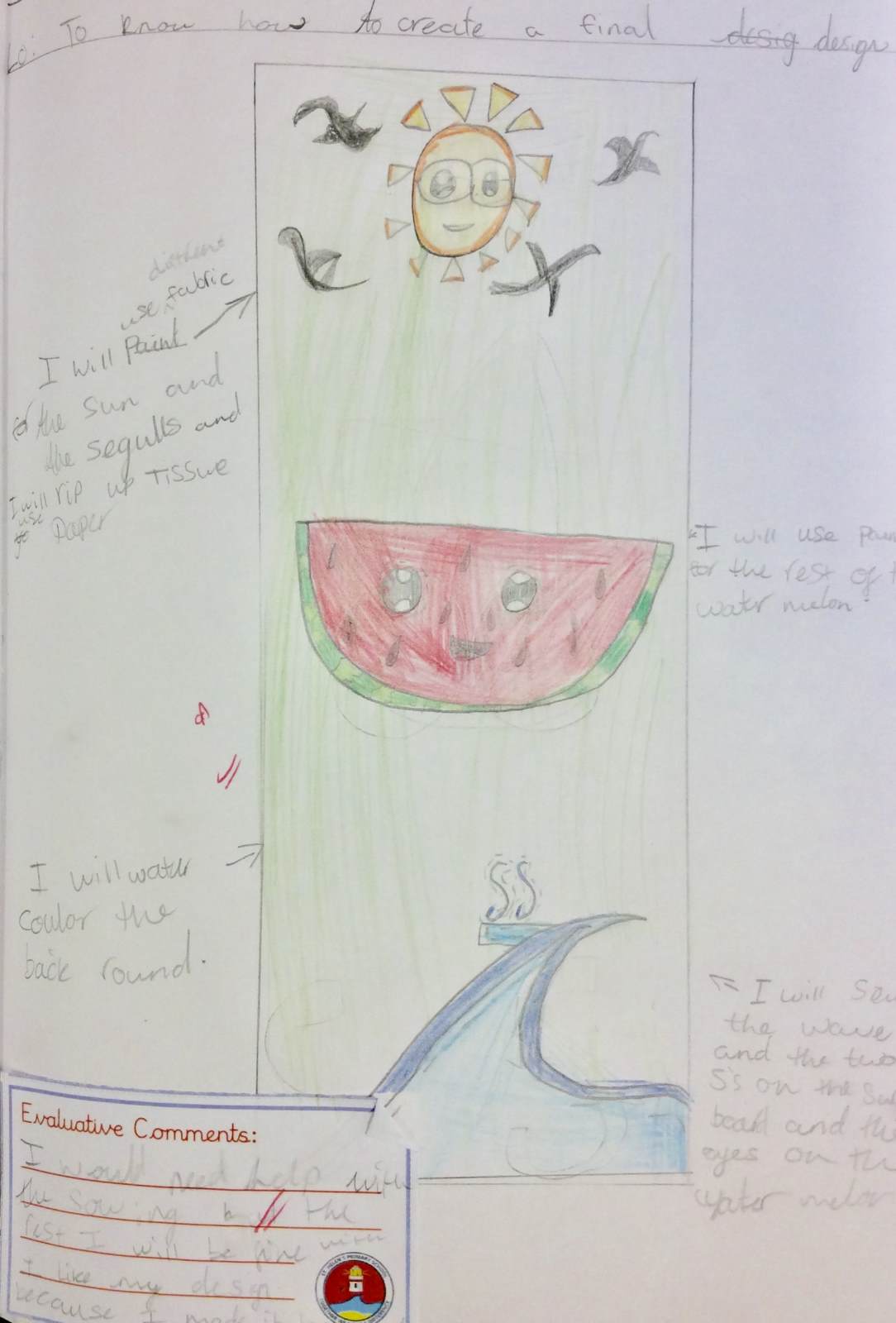 The Northern School of Art - Assembly
KS2 have had a fantastic visit from the Northern School of Art to promote further education and careers in the arts. Children were treated to a presentation about the local facilities, courses and their Saturday morning courses available - Creative Kids Saturday Art Club: 6-11 yrs. (Key Stage 1&2). This was an amazing opportunity for our children to see possible future careers in the creative arts and the educational pathways to get there.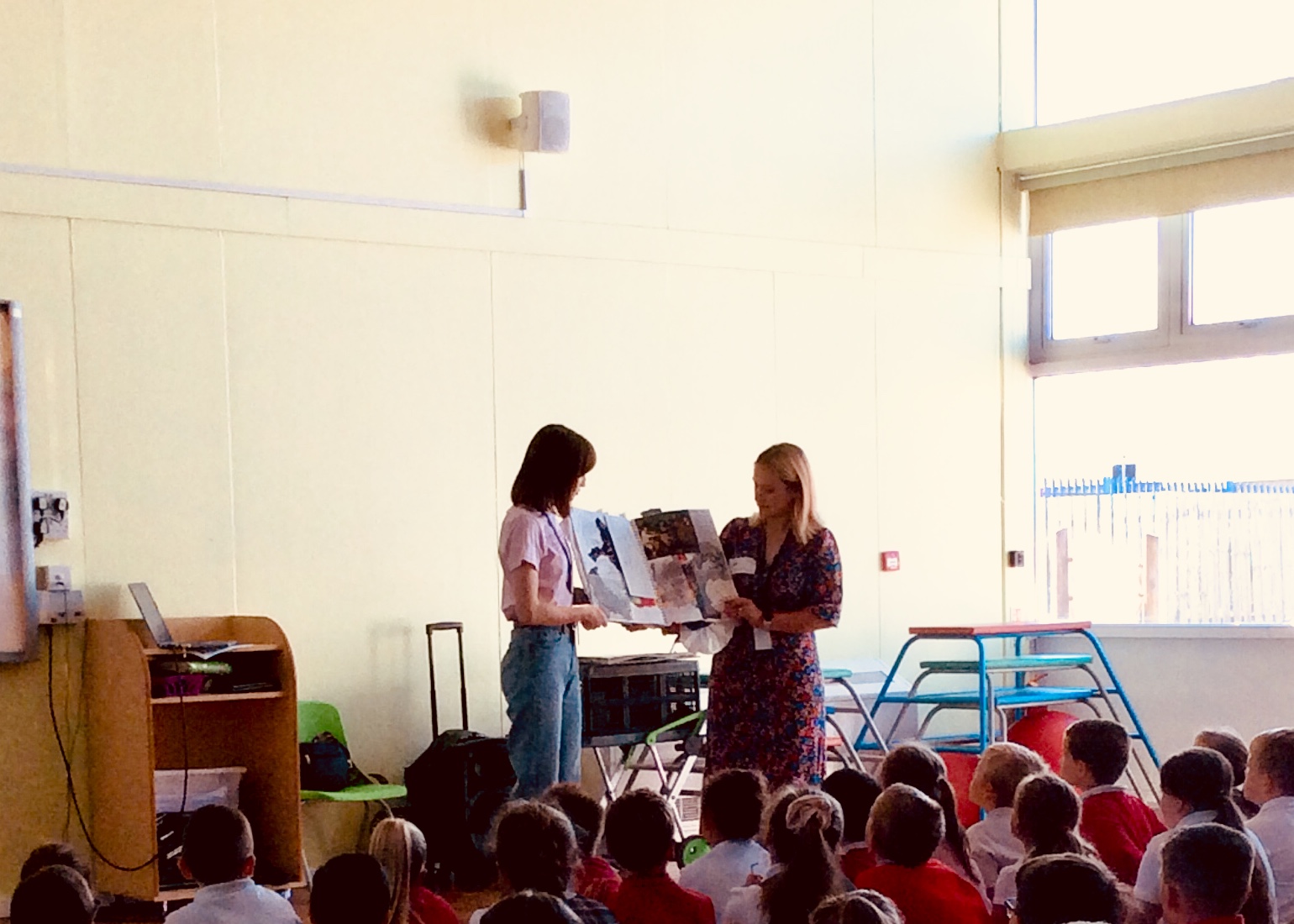 Art Gallery Trip
This year, years three and four have become art critics and met their summer pledge to visit an art galley. The children loved every minute of it and critiqued art at an exhibition, explored different art styles and their features and delved into old pieces of art to see what they could find. They then became artists and produced their own exhibition of self portraits. The art gallery even said how amazing our skills were. Future artists ready to show our work!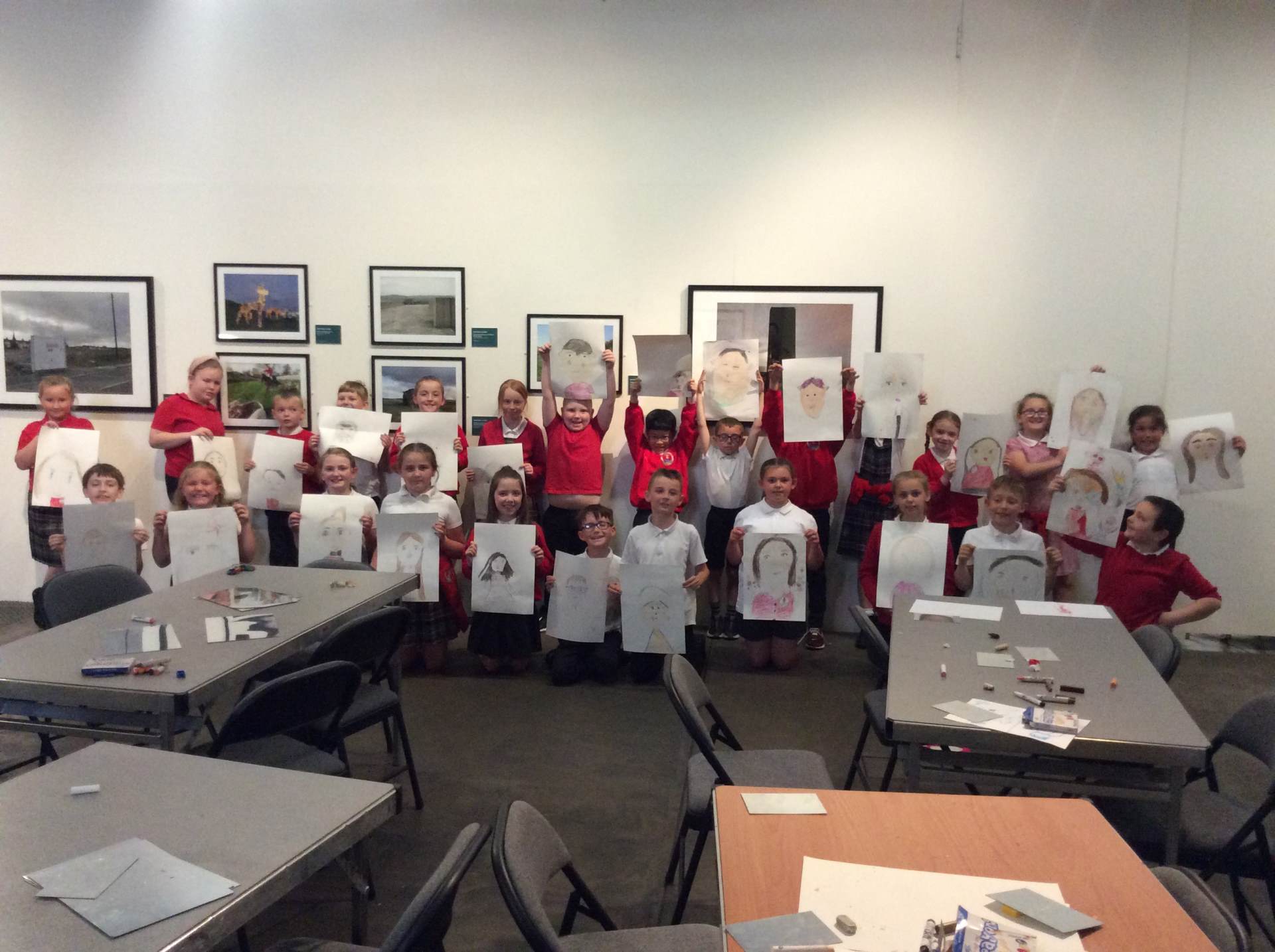 Art Gallery Trip
Art Day 2021!
Friday 3rd December, was Art and Design day in school! This has been our third annual art day and children across school have been enjoying different artists, skills and cultures. This year we have linked this into our multicultural learning focus. This year's theme has been based on art and design around the world and focused on a range of crafts and designs linked to different cultures and new skills.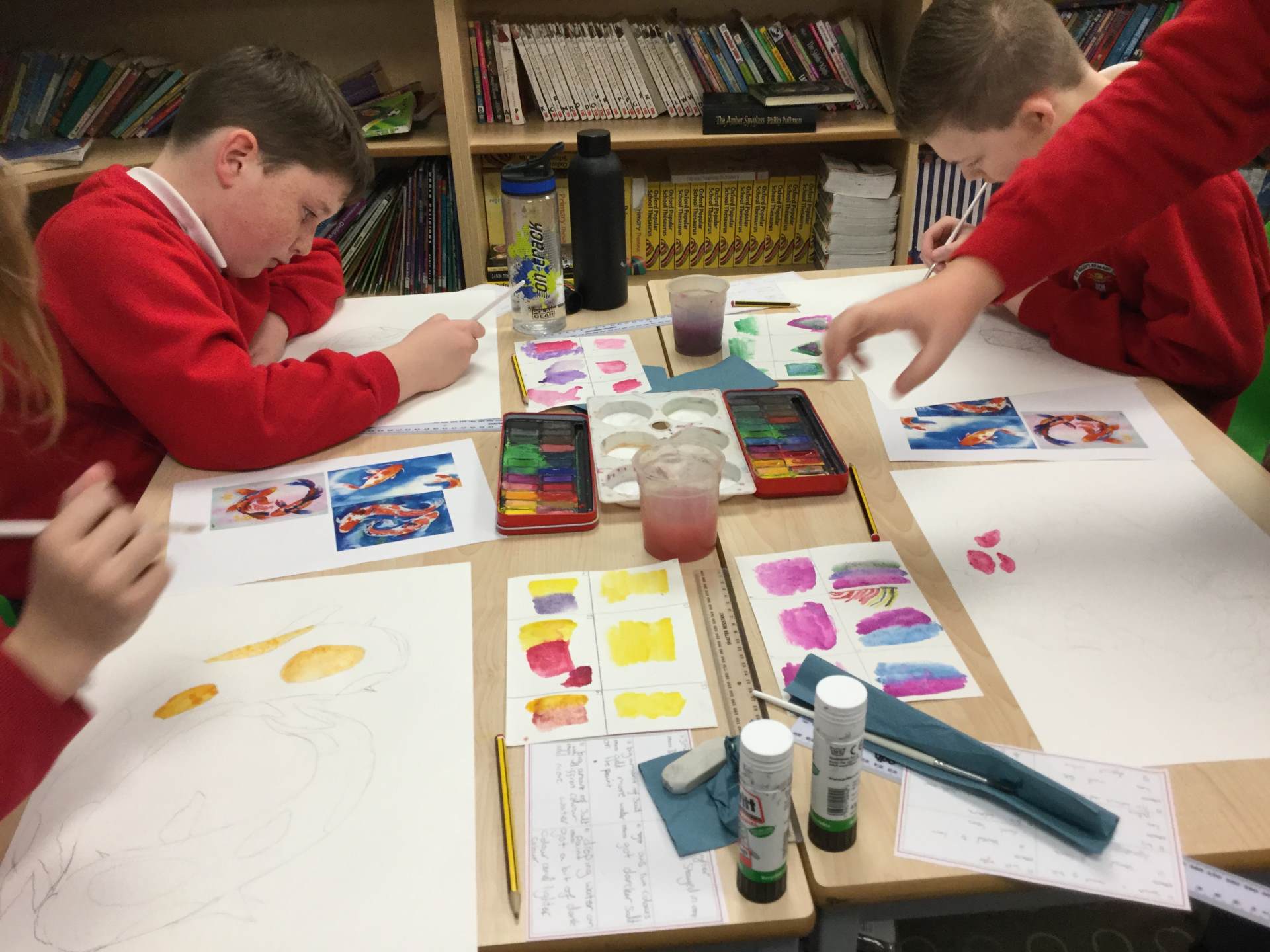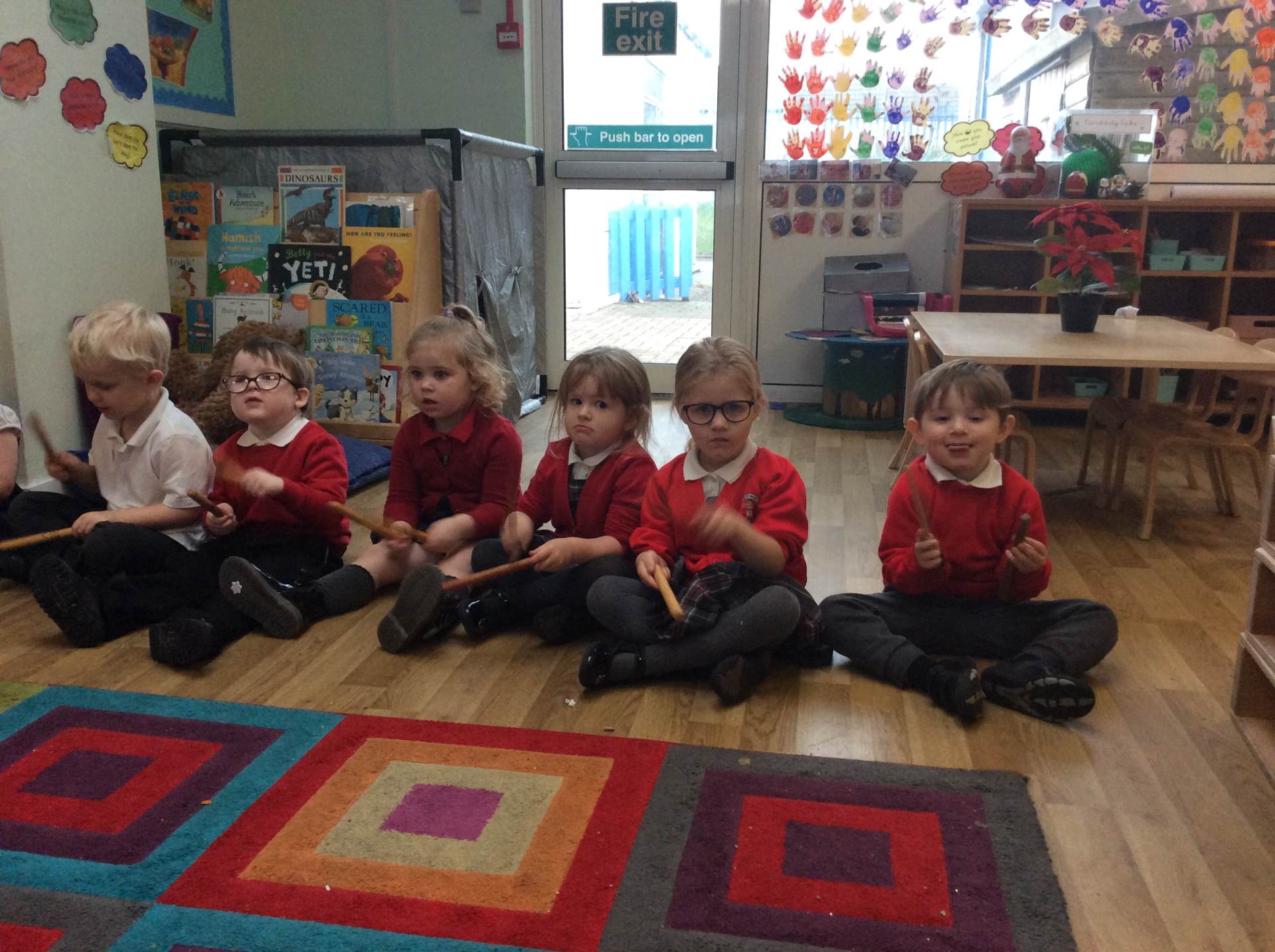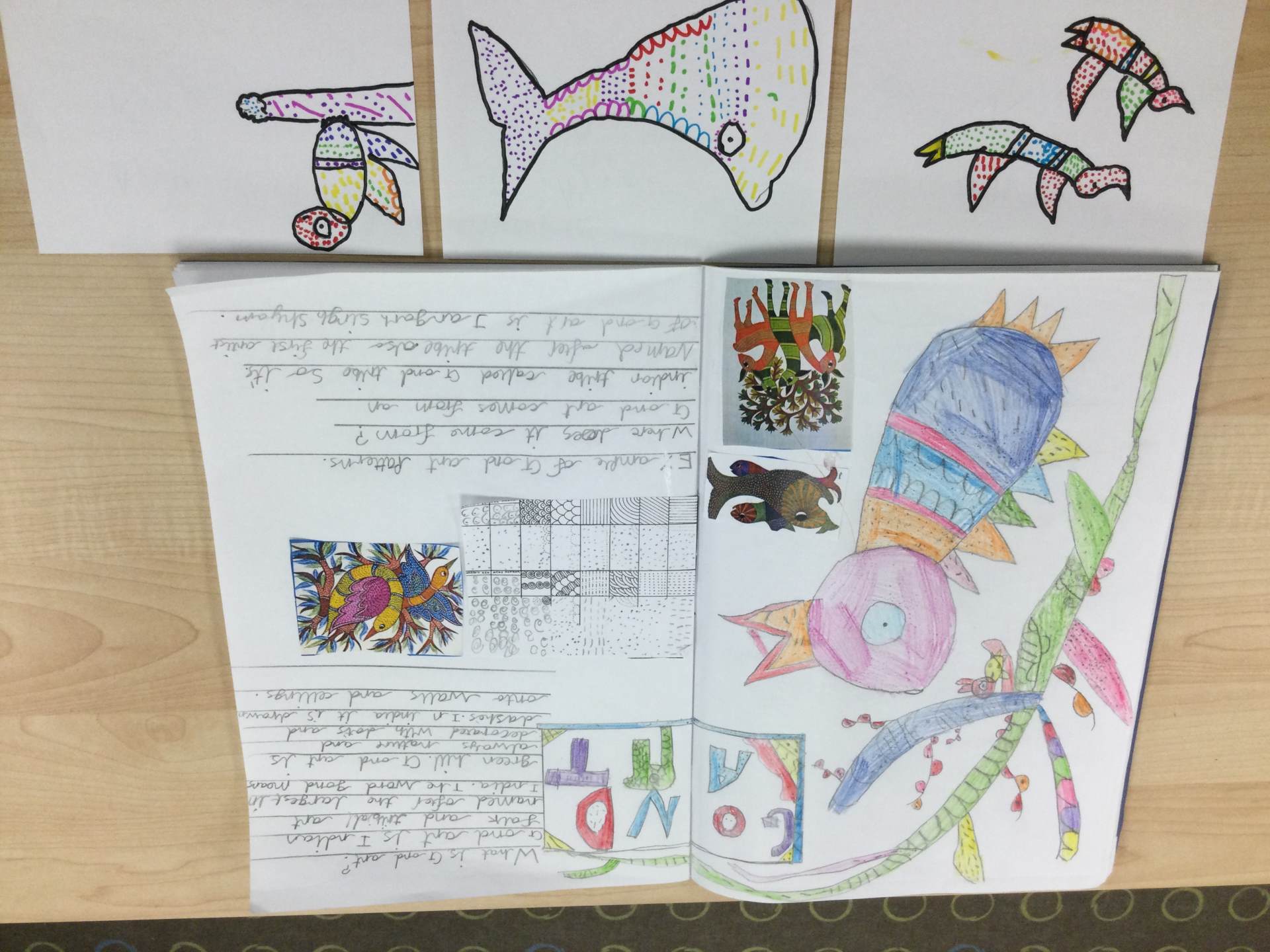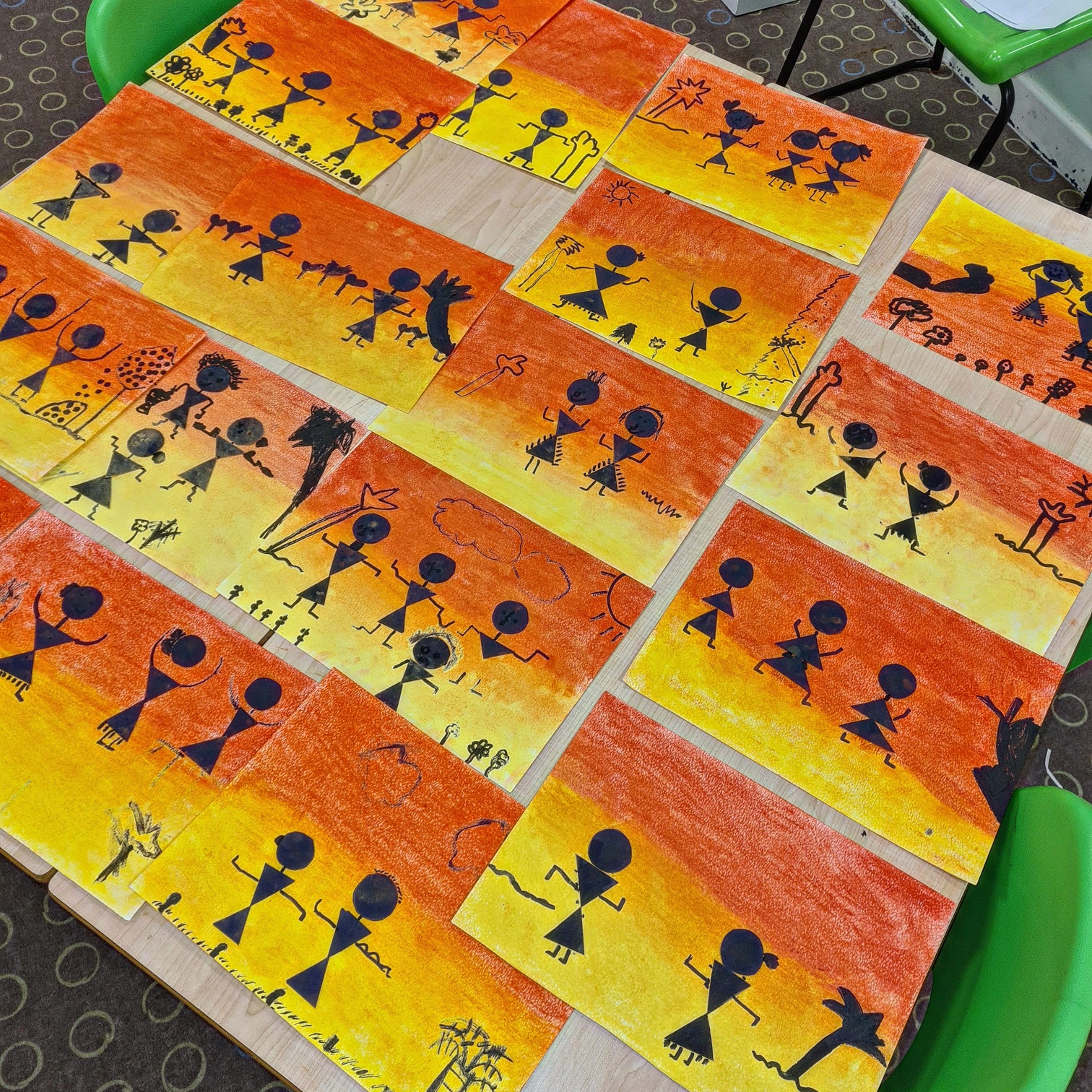 Art Day 2021
Art created across the day, celebrating multi-cultural art around the world.
Art awards and celebrations
November is Art Month!
We are proud to announce, a range of art work from the school has been awarded winners and runner up prizes from competitions within the town.
Our year five and six pupils have recently taken part in the Bloom in Art, Wintertide flag competition. Across our three classes we have a range of pupils who have achieved a winning prize and a runners up prize. Fantastic work upper key stage two! The organisers were blown away with our entries and commented on our pupils wonderful designs.
Winning entries are showcasd on the Wintertide website.
https://www.wintertidefestival.co.uk/…/school-flag-competi…/
In year three and four, we have fantastic news that one of our pupils has won a runners up prize in a Christmas card competition organised by our town MP, Jill Mortimer. Again, the judges loved our designs and local links in our pictures. Well done to our lower key stage two pupils!
Year 5 and 6 Lino Prints
Some INCREDIBLE works of art from the amazing children in Class 7 ??????
We are practising our skills of etching for lino printing ready to complete our final piece inspired by our local area.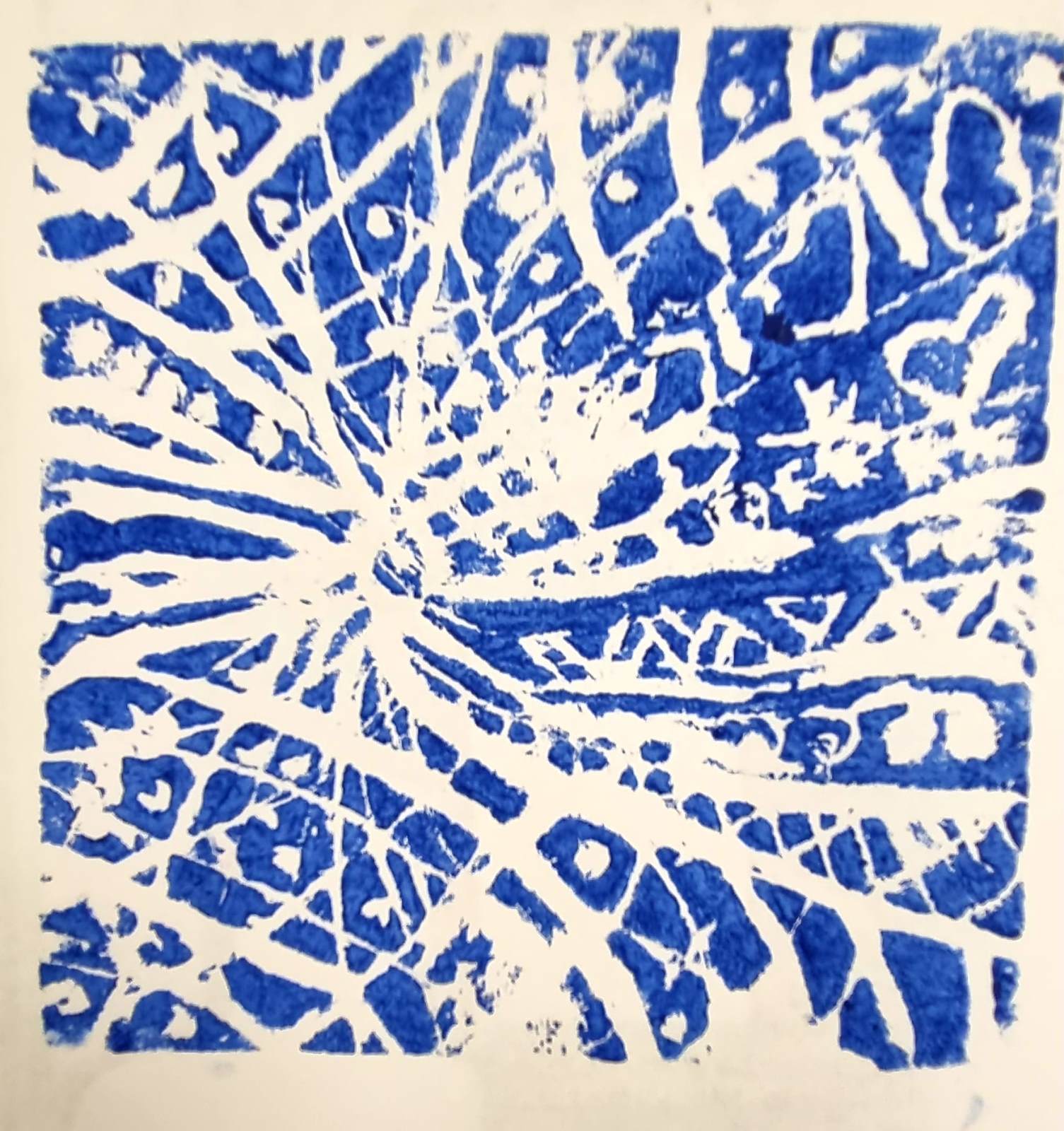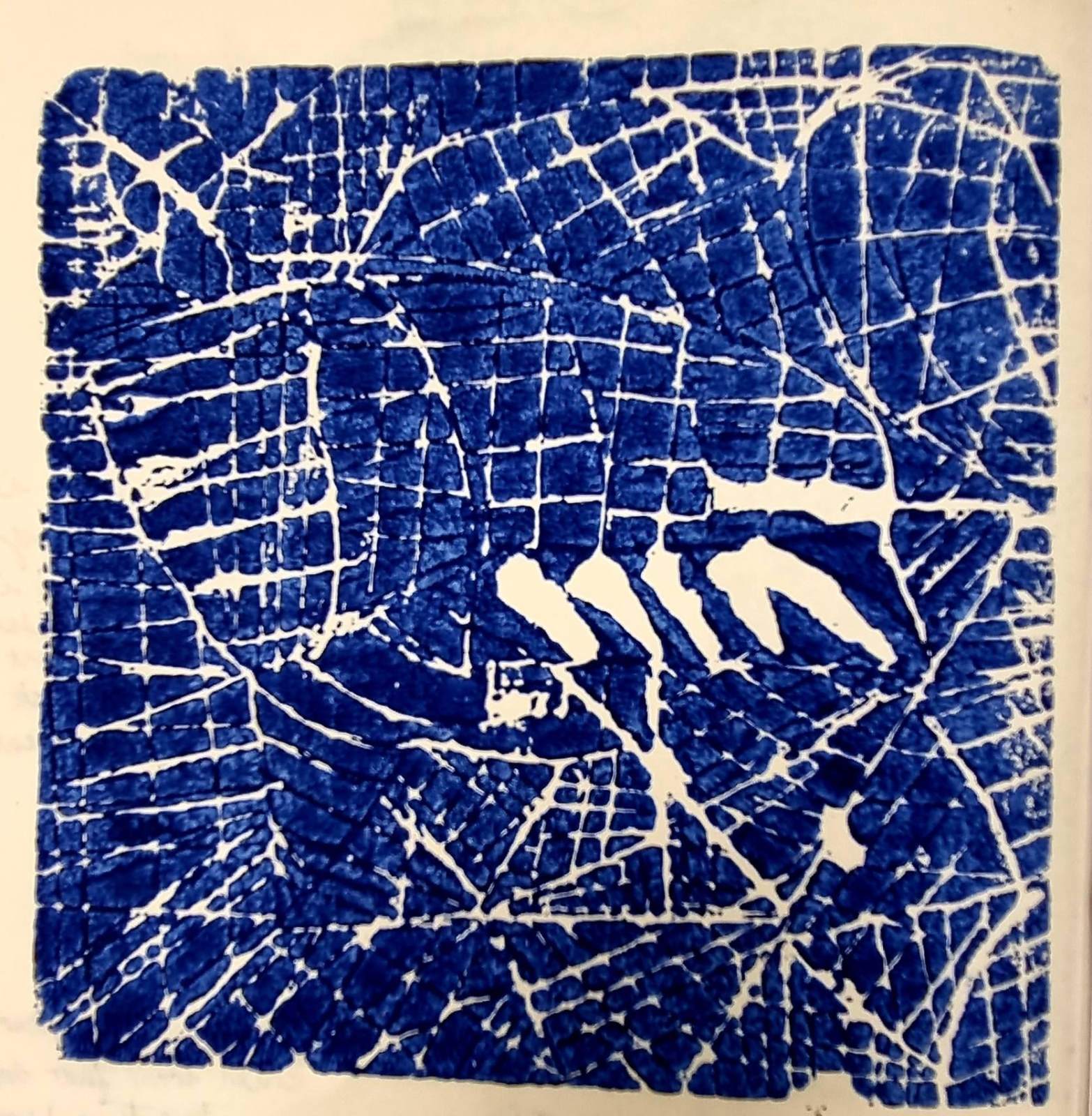 Showcasing Art across our Key Stages
We pride ourselves on having an art and design curriculum rich in local heritage and links to our coastal background. Below are an amazing array of art pieces created by current and past students using a variety of skills.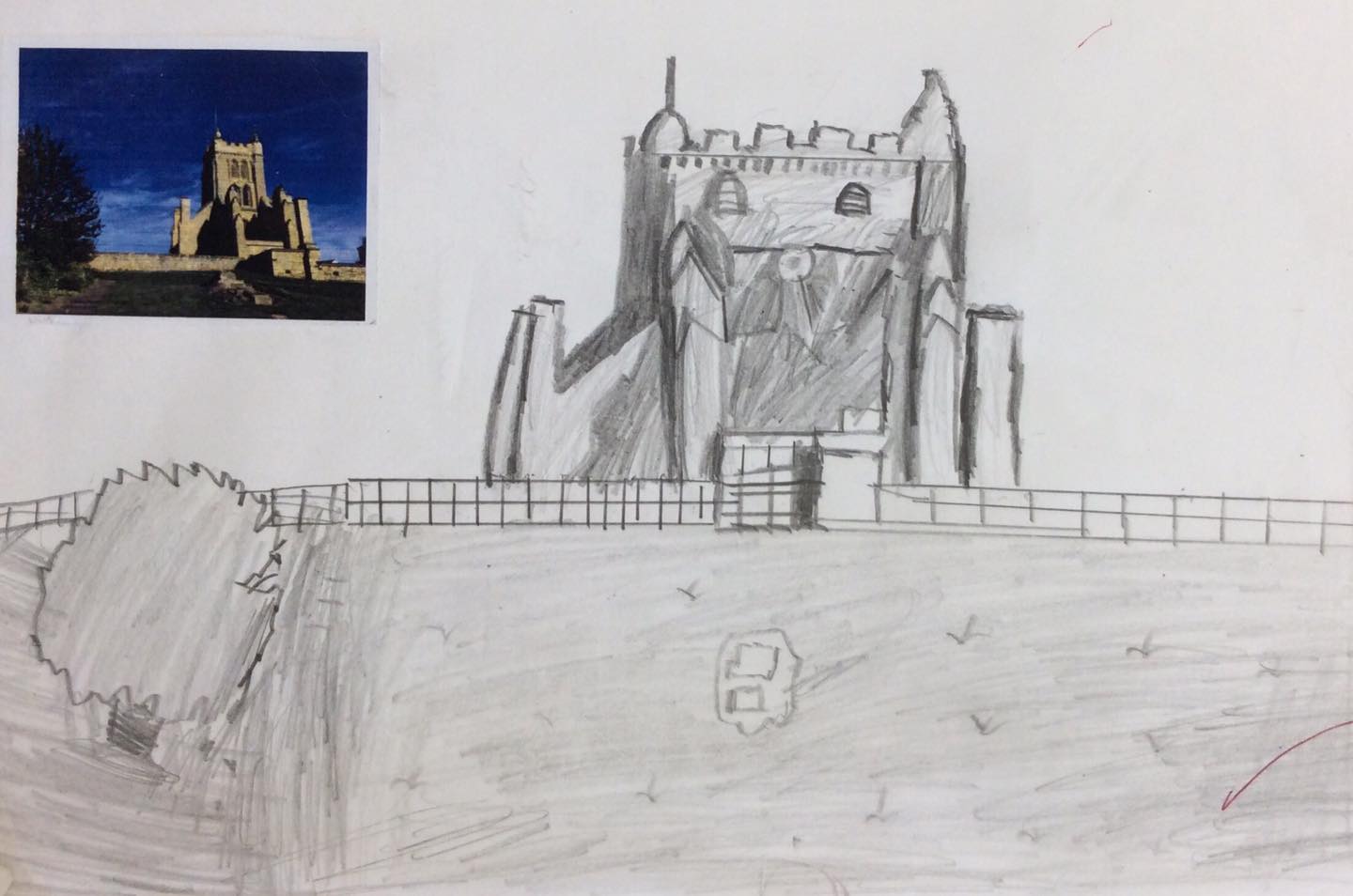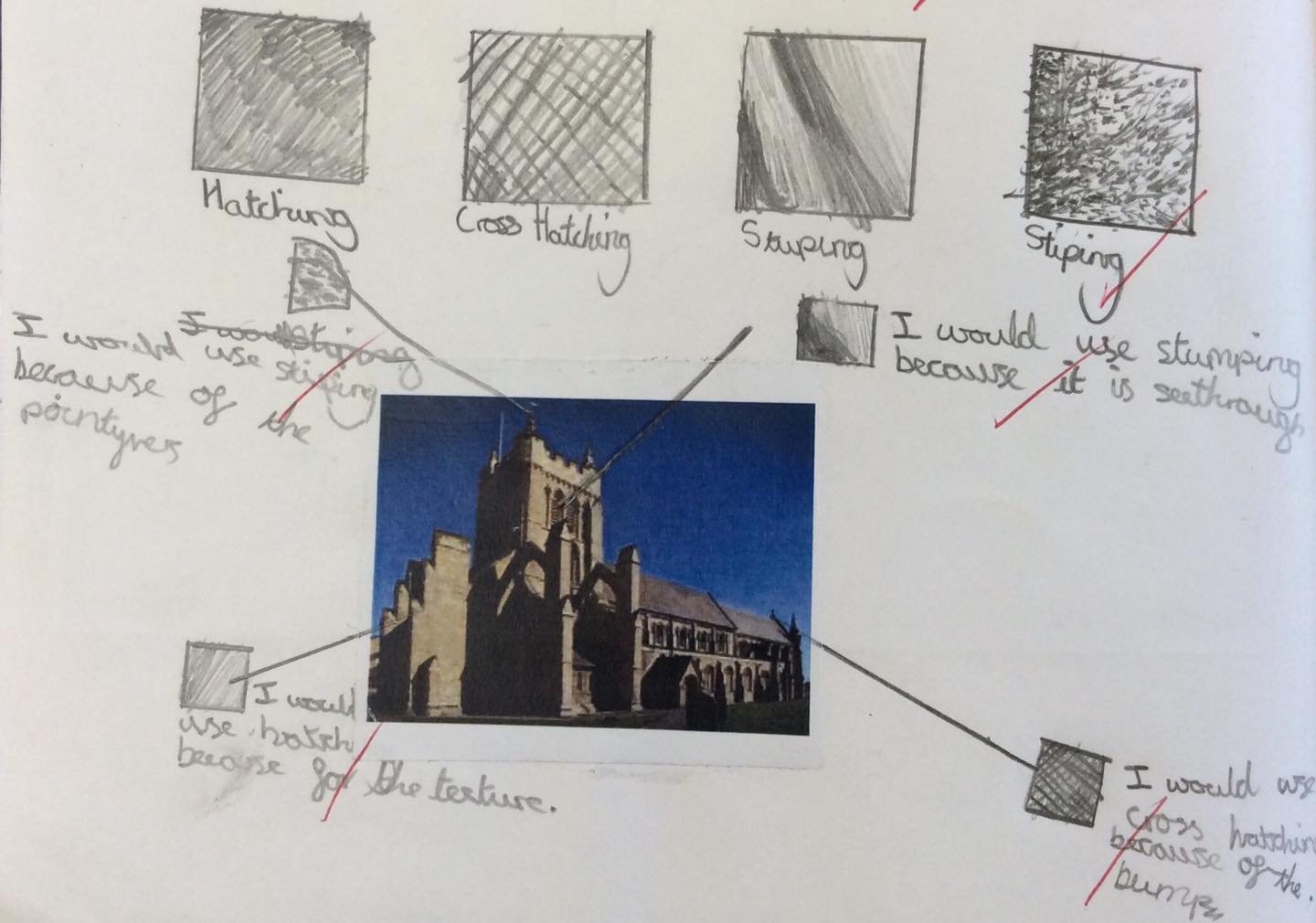 St Helen's Primary School Art Day 2019
On Wednesday 7th November 2018, as a whole school we took part in an Art Day. The aim of the day was to create a mural for the school showcasing our AMAZING local area. Every class completed a research lesson, skills lesson and a final design piece where every child in the school added to our whole school mural.
By the end of the day we had a beautiful mural ready to exhibit in our KS2 Hall. Our mural shows the progression of skills across each year group and throughout the key stages. Our final piece also encompasses a vast range of art movements and styles from pointillism to collage and cubism.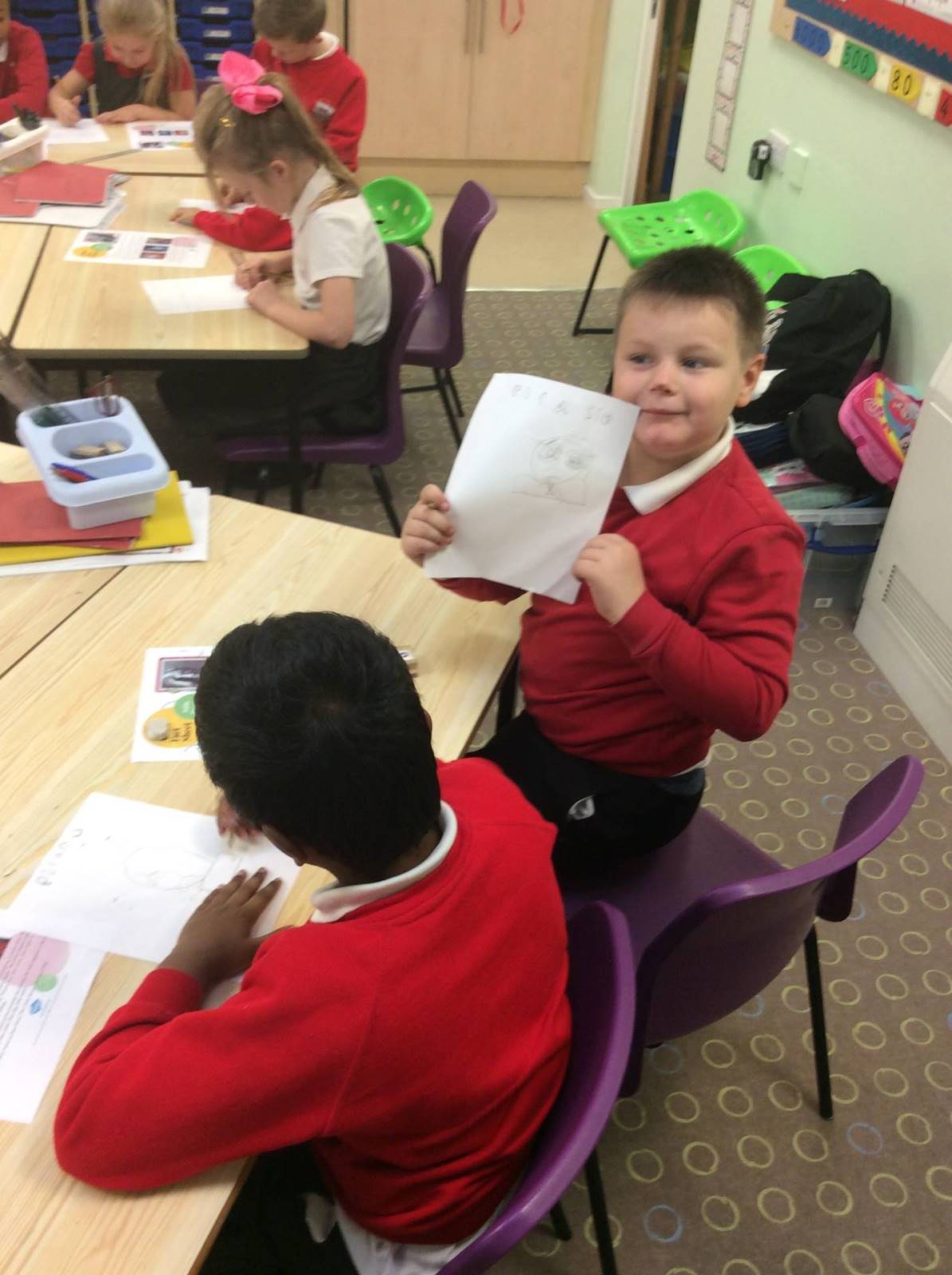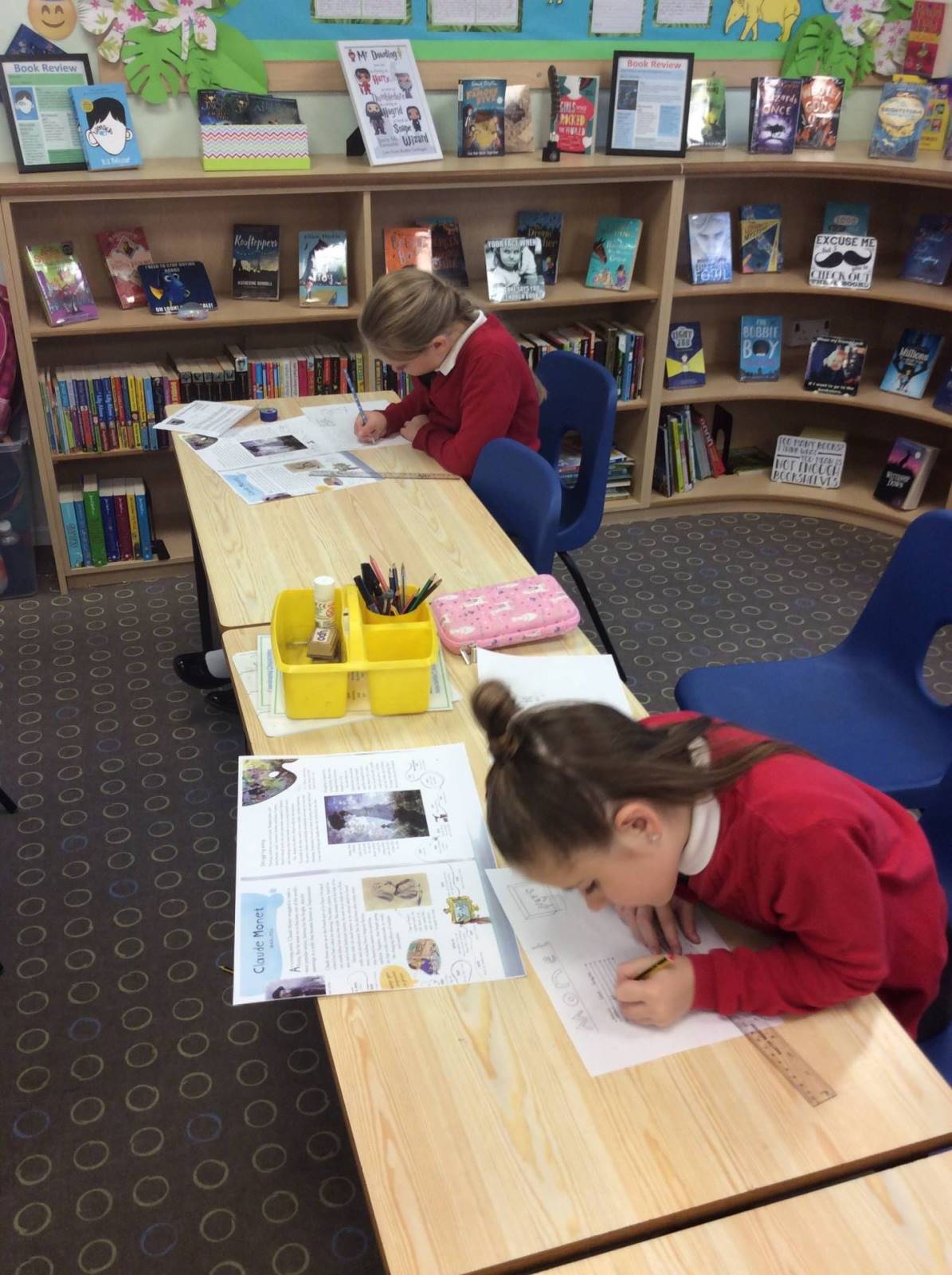 Art Reading Spine
Katie and the Mona Lisa by James Mayhew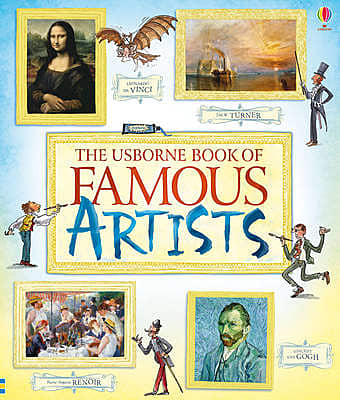 Katie and the Starry Night by James Mayhew
The Dot by Peter H Reynolds
Bob's Blue Period by Marion Deuchars
Ish by Peter H Reynolds
The Magical Garden of Claude Monet by Laurence Anholt
The Usborne Book of Famous Artists by Rosie Dickins
Elmer David Mckee
Lucy's Blue Day
I Am An Artist Marta Altés
Christopher Duke and Federica Bartolini
Little People Big Dreams Books - https://www.wob.com/en-gb/books/series/little-people-big-dreams/2
Please refer to our linked knowledge organsiers above for further texts.
Useful Resources and Links
Hartlepool
Dabble in Art
The hugely popular youngster's 'Dabble' sessions run every 2 weeks on Saturdays from 10 am – 12 noon in the inspiring location of the Hartlepool Art Gallery, Church Square.
Hartlepool Art Gallery has a wealth of resources and ever changing exhibitions showcasing work from around the work. They also host a Saturday Art Club for families.
Hartlepool Art Gallery
The Northern School of Art
All clubs run from 10am to 1 pm - Creative Kids Saturday Art Club: 6-11 yrs. (Key Stage 1&2) - Art Club: 12-15yrs (Key Stage 3&4) - National Saturday Club 13 - 16yrs Prices for Saturday Club: 4 Weeks Block £40 5 Week Block £45 6 Week Block £50 Please note, there is NO Charge for the National Saturday Club, students are nominated through their school or can apply through saturday-club.org
The Northern School of Art Saturday Clubs
Middlesbrough
MIMA in Middlesbrough connects art, people and ideas to empower creative lives and positively contribute to society. It is an international art gallery and museum, who commission, collect and re-think modern and contemporary art.
Newcastle
Seven Stories, the National Centre for Children's Books.
The Biscuit Factory in Newcastle is the UK's largest independent commercial art, craft & design gallery. The ethos of the gallery has always been to provide a platform for local and national artists, to support emergent makers, to showcase established artists and to add to the cultural landscape of the region.