Class 9 (Year 6)
English
This half term we have been exploring our new novel, 'If You Find This'. We have looked at a spooky ghost house, lost heirlooms and our main character Nicholas and his adventures with his Grandpa. Who knows what will happen next?
Our Science and Design and Technology topics this half term include electrical circuits and board games. By the end of the half term we are hoping to make working board games with lights and a buzzer.
Within History we are discussing Crime and Punishments throughout the ages and really bringing horrible histories to life. We will discuss how punishments have changed throughout the years and the gruesome truths of years gone by.
Here is our class timetable for the Spring term: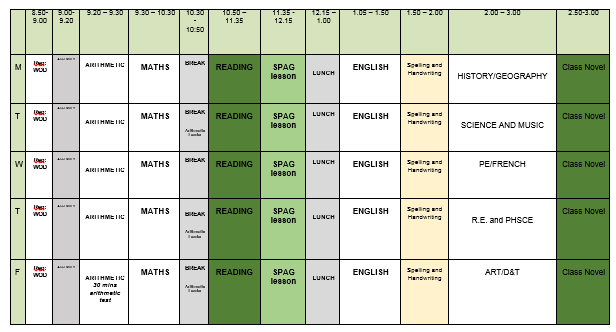 Homework:
Pupils are given their new spellings of the week on a Monday. These must be completed and learnt for a spelling test on a Friday. Children will be expected to write a sentence for each word and copy the words out using the; look, cover copy and check method.
Homework will be given on a Friday and is expected to be back in on Wednesday at the latest.
Revision homework is now given wherever needed and is in preparation for SATs.
Reading Journals:
Children are expected to bring their reading journals into school every day with a signature from an adult to say they have read. Within class 9 this is monitored and phone calls to parents/carers will be made if these expectations are not met regularly.
The Reading Journals are a way of letting your child know how they are getting on with their reading. They also allow easy communication with your child's teacher regarding the progression of their skills at home. Writing a short comment ensures your child's teacher is aware of how they are doing at home, as well as at school.