Class 7 (Year 5)
Our Class
Reading
All pupils should bring their reading book and reading journal to school every day. Pupils should practise their reading every night for at least 10 minutes, supported by an adult. We would really appreciate parents/carers signing their child's reading journal and we encourage parents to make comments about their child's reading- thank you for your support.
Spelling and Homework
Weekly spellings are based on spelling rules and statutory words from the National Curriculum. Spellings to learn and practise will be given every Friday as homework and pupils will be tested on the following Friday. Homework will also be given on a Friday and is expected to be returned on a Wednesday. If there are any issues with homework, please do not hesitate to contact me.
Mathematics
Fluency in number bonds and multiplication tables will underpin your child's mathematical knowledge this year, helping with everything from long multiplication to fractions and measure. Please encourage your child to practise them regularly. Each child has a login on Times Tables Rockstars, which they immensely enjoy. Please encourage them to regularly play.
PE
This term, children will be swimming. Please ensure your child comes to school with their swimming kit, including non-baggy shorts and a swimming cap. Goggles may be worn if a permission slip is returned to school.
Daily Timetable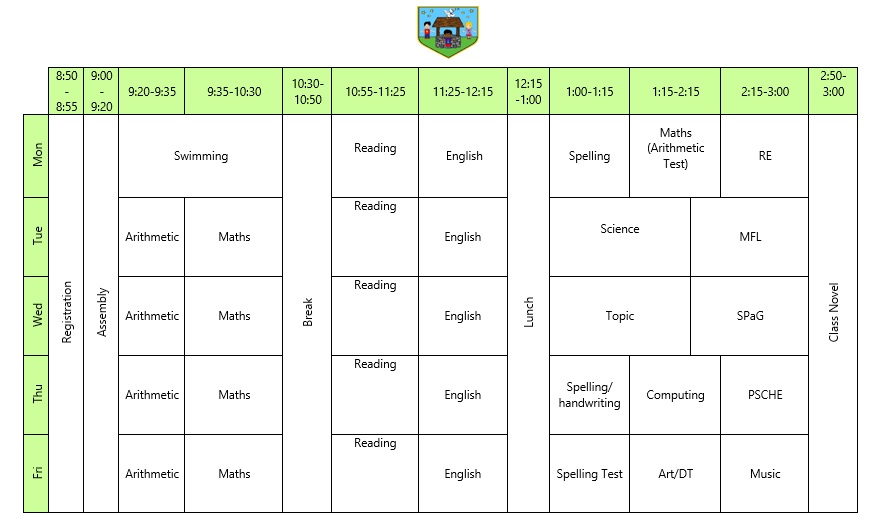 Look at our learning!
Maths
In maths, we have been developing our understanding of geometry. Children have enjoyed looking at the properties of 2D and 3D shapes, we even completed an etymology treasure hunt around our class, discovering the meaning of morphemes. Did you know 'pent' means five and it comes from the Greek language? (Pssst- don't tell anyone that 'decagon' is still hidden in the tipi!) We worked together to reason whether polygons were regular or irregular, and we worked in teams to try and make the net of a cuboid in the fastest time. Super maths work Class 7!
English
In English, we are reading Way Home by Libby Hathorn. So far children have adapted the book into a play script and performed it to the class. We are looking forward to writing descriptive stories and finding out what happens to Shane.
Science
This term in science we are looking at solids, liquids and gasses and how we can sort and separate mixtures and materials. We took on the role of solid, liquid and gas particles and looked at how they are bonded and interact with one another. We conducted an experiment investigating materials that dissolve.
Curriculum
We're also learning about Britain since 1948 in history. So far we've listened to songs throughout the decades and explored how music has changed, we've plotted significant events on a timeline and also looked at the Queen's Coronation in 1953, when we wrote diary entries which we have sent to Her Majesty herself! We are looking forward to our reply. We are also exploring coding in computing, learning how to order food in French and making a salad in DT.
What an exciting half-term!
Mr Dowding