Class 3 (Year 2)
Class Timetable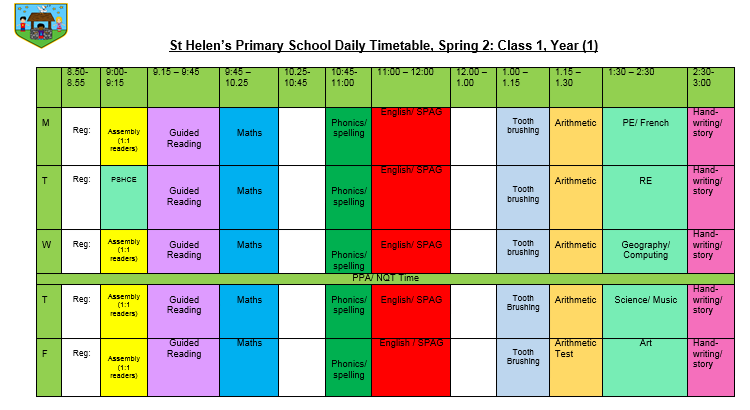 Homework:
Homework in Class 3 is sent home on a Friday. This will include the weekly spellings which will be tested the following Friday. Children will be expected to write a sentence for 5 of the words each and copy the words out using the; look, cover, copy and check method.
Homework will either be an English or maths task linked to the work your child has covered during the week. Homework is to be returned by Wednesday.
Reading Journals:
Children are expected to bring their reading journals into school every day with a signature from an adult to say they have read. Within class 3 this is monitored and phone calls to parents/carers will be made if these expectations are not met regularly.
The Reading Journals are a way of letting your child know how they are getting on with their reading. They also allow easy communication with your child's teacher regarding the progression of their skills at home. Writing a short comment ensures your child's teacher is aware of how they are doing at home, as well as at school.
PE:
Class 3's PE lessons will take place on Tuesdays. Please ensure your child has suitable PE kit in school on this day. PE kit includes black shorts, white T Shirt and suitable footwear. This half term the focus is dance.
English
This half term our focus surrounds Traditional Tales. Within this topic we will be exploring the features of the texts, the characters and the settings. We will then be using this as inspiration to retell the stories by changing the characters, writing an alternative ending before finally producing our own Traditional Tale.