Information for Parents
READING
All pupils should bring their reading book and reading record to school every day. Pupils should practise their reading every night for at least 10 minutes supported by an adult. We would really appreciate parents/carers signing their child's reading record and we encourage parents to make comments about their child's reading. Reading is a high priority across school.
SPELLING
Weekly spellings are based on spelling rules and statutory words from the New Curriculum. Spellings to learn and practise will be given every Friday and pupils will be tested on a Thursday the following week. We have introduced across school a 'Word of the Day' activity. We ask parents to question and discuss this with their child/children. Find out its definition, the context it would be used in and practise putting it into a sentence where possible.
MATHEMATICS
Number bonds and multiplication tables should be practised regularly. It is important that pupils are fluent in their number bonds and multiplication tables to enable them to efficiently carry out many other mathematical strategies. Please encourage your child/children to practise these every week and support them in the process.
Children are to ensure they bring the correct equipment to school:Reading books and water bottles to be brought daily.P.E kits (shorts, t-shirt and suitable shoes) every Monday.Homework is given out each Friday and is to be returned the following week.
Spellings are handed out each Monday to be tested each Friday.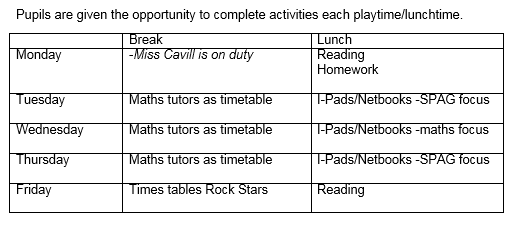 In maths we have been learning how to solve a range of problems in different contexts.
In English we are reading the novel 'If You Find This' by Matthew Baker. We are exploring the character of Nicholas as he searches for his Grandpa Rose's missing family heirlooms.